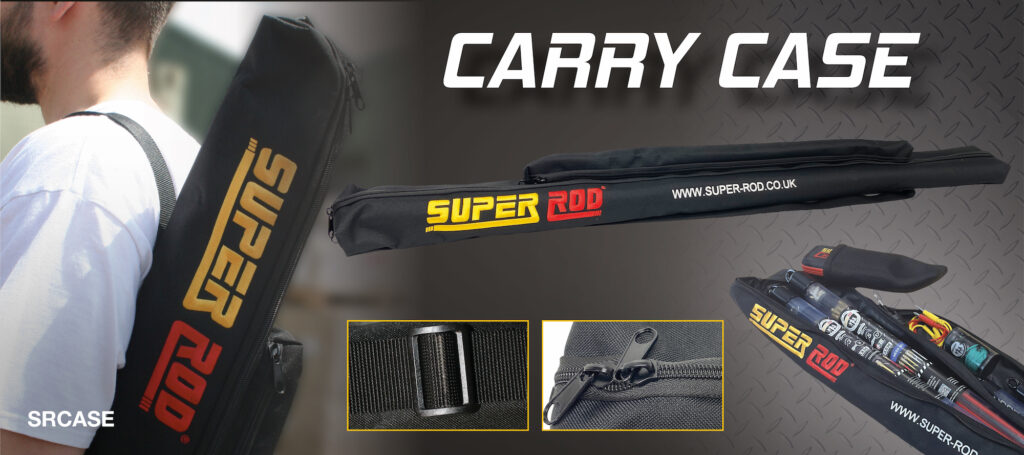 Take your Tool Organisation to the Next Level with the Super Rod's Innovative Carry Case
As a professional installer, you know the importance of having the right tools at your fingertips when you're on the job. Having your tools and equipment organised and readily accessible can make a world of difference in your workday. That's where Super Rod's new Carry Case comes into play.
The Super Rod's latest product has been designed with the utmost precision, incorporating valuable user feedback to provide a superior configuration for pockets and storage compartments. It not only ensures that your tools are always within arm's reach when you need them most but also protects them against damage on site or whilst in transport in the van.
Convenience Meets Durability
One of the standout features of the Carry Case is its thoughtful design. It's not just a simple bag; it's a tool organiser's dream. Here's what makes it special:
Better Configuration for Pockets: The case's pocket layout has been optimised based on user feedback, allowing for efficient organisation of cable rods, cable routing equipment, and accessories.
Central Opening for Multiple Rod Sets: A central opening is included to accommodate multiple rod sets tubes and long drill bits, ensuring easy access to essential tools.
External Zipped Pocket: An external zipped pocket is provided to house Super Rod accessories, ensuring that all tools are conveniently accessible.
Detachable Internal Soft 3D Air Mesh Pocket: The case includes a detachable internal soft 3D Air Mesh pocket, designed specifically to store and protect your inspection camera.
Comfortable to Carry: Featuring an adjustable shoulder strap, the Super Rod Carry Case is easy and comfortable to carry, making it ideal for professionals on the go.
Durable Construction: Constructed from 600 Denier polyester material and equipped with stronger zips, this carry case offers optimum durability, ensuring that your tools remain protected for years to come.
Generous Dimensions: The dimensions of the case (1250 x 90 x 60 mm) provide ample space to accommodate several tubes of Super Rod products and accessories.
Eco-Friendly Packaging: The Super Rod Carry Case is packaged in a fully recyclable cardboard box, featuring an open window to showcase the branding and high-spec material.
Prominent Branding: The Super Rod logo is prominently embroidered in colour, showcasing the brand's commitment to quality and innovation.
Affordable Solution: This carry case offers an affordable solution for installers who prioritise tool protection and longevity.
The Verdict from Super Rod's Managing Director
Malcolm Duncan, Super Rod's Managing Director, shares his perspective on this innovative product: "The Carry Case provides a durable solution for any professional installer that likes to have all of their essential items in one secure place. It allows them to arrive at each job knowing that they have everything they need to complete the job professionally and guarantees that the tools of their trade are always ready for action.
This product represents our commitment to providing practical and user-friendly solutions for professionals who rely on our equipment. It not only enhances the storage experience but also helps protect valuable tools, ultimately saving time and money."
Hold on to your tools with Super Rod
In the world of professional trades, where efficiency and organisation are paramount, the Super Rod Carry Case offers a practical and durable solution to keep your essential tools easily accessible and protected. With its thoughtful design and features, it's a must-have addition to any tradesperson's arsenal.
For more information visit https://super-rod.co.uk/srcase/