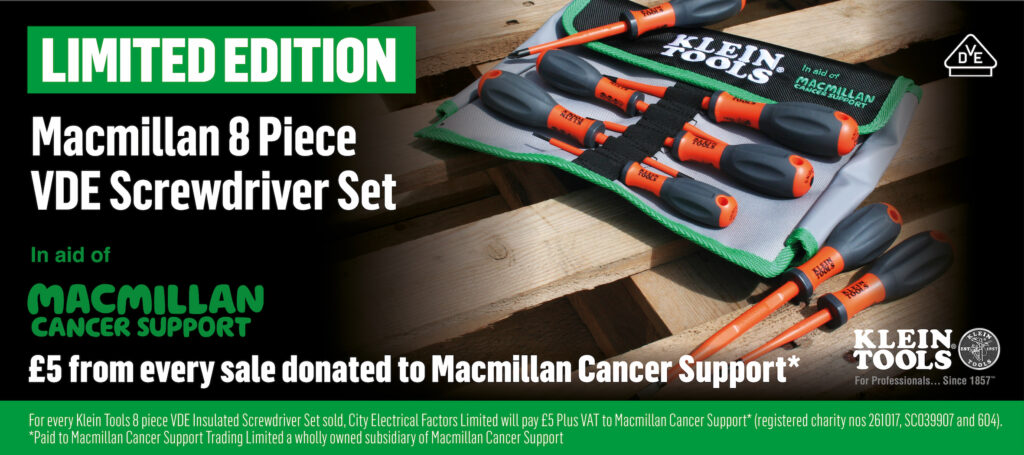 Klein Tools and City Electrical Factors Join Forces in Support of Macmillan Cancer Support
Following on from last year's success, Klein Tools has again teamed up with City Electrical Factors to launch a limited-edition VDE insulated eight-piece screwdriver set to raise money for Macmillan Cancer Support. For every set sold, £5 will be donated to the charity*.
The Klein Tools eight-piece 1000V VDE-rated screwdriver set is more than just a collection of tools; it's your reliable partner in tackling intricate electrical tasks. Each screwdriver is meticulously engineered and rigorously tested to meet the demanding standards of the industry. The 1000V VDE rating ensures your safety as you work with live circuits, offering peace of mind and confidence while on site. With a diverse range of screwdrivers at your fingertips, you are equipped to handle various scenarios with precision and efficiency.
Unveiling the Electrician's Dream Set
The highly popular orange and grey handle screwdrivers are housed in a Macmillan-branded high-quality pouch making it a must-have set for Klein Tools collectors. The content of the set includes popular sizes to carry out the most common electrical jobs i.e., slotted 2.5mm, 4mm and 5.5mm, PZ1 & 2, PZ1/Slotted & PZ2/Slotted, and 3mm Hex.
The inclusion of three new tip sizes (PZ/Slotted and Hex) to our already highly popular five-piece screwdriver set is a direct result of extensive consultations with electricians who use these tools day in and day out.
By actively seeking feedback and insights from the end-users, Klein Tools has created a product that caters precisely to the needs of electricians, making it an electrician's true dream set.
Ergonomics Meets Functionality
Recognising the importance of comfort during prolonged use, each screwdriver in this set features ergonomic handles that fit naturally in your hand. This design not only minimizes hand fatigue but also enhances your control over delicate manoeuvres, ensuring that your work is consistent with the highest quality. Whether you're dealing with wiring, terminals, or intricate components, these screwdrivers offer greater torque and comfort.
Safety Redefined
Electricians work in an environment where safety is paramount. The 1000V VDE-rated screwdriver set is your shield against potential hazards. The VDE rating guarantees that each tool can withstand voltage up to 1000V, providing an added layer of protection against electrical shocks. With these screwdrivers in your arsenal, you can confidently navigate complex electrical systems, knowing that your safety is uncompromised.
Empowering Your Work, Impacting Lives
What distinguishes this Klein Tools' set is not only its exceptional quality and fit-for-purpose contents but also its support of an important cause. In aid of Macmillan Cancer Support, a portion of every purchase will help the charity to provide its vital range of physical, financial, and emotional support for people with cancer all across the UK. By choosing this set, you're not only choosing premium quality and safety for your electrical projects but also making a meaningful contribution to a cause that matters. City Electrical Factors have guaranteed that a minimum of £20,000 will be donated to Macmillan by the end of this campaign.
Super Rod/Klein Tools UK managing director, Malcolm Duncan said: "Macmillan Cancer Support does whatever it takes to help people living with cancer to live life as fully as they can. It is a charity that so many trade professionals in the electrical industry hold close to their hearts and we are extremely proud to be supporting CEF in this fantastic initiative driven by a mutual commitment towards Corporate Social Responsibility (CSR)."
So, through this simple act of buying a VDE insulated screwdriver set, you're not just making a purchase, you're contributing to a cause. Isn't it stunning how a small act can make a giant difference?
So, why hesitate any longer? Upgrade your tools, enhance your skills, and become an agent of positive change – one turn of a screwdriver at a time.
The limited-edition set is available exclusively from City Electrical Factors, in store at their 390 locations across the UK and also online cef.co.uk (search for 32278INS) https://www.cef.co.uk/catalogue/products/5243822-8-piece-vde-insulated-screwdriver-set-macmillan-edition
*For every Klein Tools 8-piece VDE Insulated Screwdriver Set sold, City Electrical Factors Limited will pay £5 plus VAT to Macmillan Cancer Support* a registered charity in England & Wales (261017), in Scotland (SC039907) and in the Isle of Man (604) Also operating in Northern Ireland.
Paid to Macmillan Cancer Support Trading Limited a wholly owned subsidiary of Macmillan Cancer Support to which it gives all of its profits.