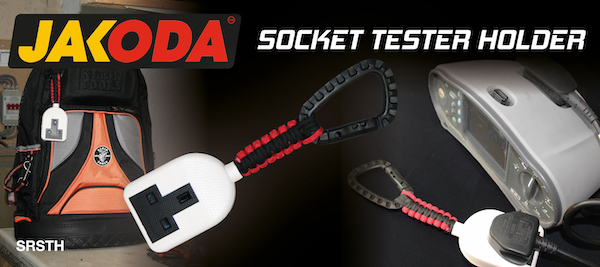 Jakoda Socket Tester Holder
2-in-1 Socket Tester Holder with Nulling Functionality
Are you tired of losing or damaging your socket tester? Super Rod has the solution with their new JAKODA Socket Tester Holder. This 2-in-1 tool not only stores your socket tester but also nulls your multi-function tester.
The idea for the product came from Devon's contractor, Duncan Thompson, alias @surfbaysparks, who thought of the concept when faced with damaged socket testers loose in his bag. Duncan, who thinks simple ideas are often the solution, came to us with this handy device to store your socket tester.
Always in the hunt to offer installers time-saving solutions, Super Rod's product development team added a really useful feature to the device allowing users to quickly null their multi-function tester without having to fumble around with separate tools or accessories.
The new Super Rod product has been designed with convenience in mind. It can easily be hung on your tool bag or belt and saves space in your storage solution while keeping your socket tester easily accessible.
And because you would expect nothing from Super Rod but the best quality products, the JAKODA Socket Tester Holder features a high-strength durable hook which can hold up to 90kg and a durable Type III 7 strand 350 paracord rope ensuring that the product can withstand the rigors of everyday use on the job.
The JAKODA Socket Tester Holder is an essential tool for any electrician looking to streamline their workflow and increase efficiency. Its multi-function tester nulling feature, convenient design, and durable construction make it a must-have for any tool kit.
Super Rod's managing director Malcolm Duncan, comments: "Another example of Super Rod's mission to listen, innovate and deliver to contribute to the on-going evolution of our industry. Encouraging ideas from those working on-site and making it a reality has resulted in the introduction of some fantastic time-saving products into our product range and the new Jakoda Socket Tester Holder idea from Duncan is another example."
Do you experience pain and frustration on site? Do you have an idea for a solution? Feel free to share your thoughts with our development team at Super Rod, you can email us at: developmentideas@super-rod.co.uk.
For more information about the Jakoda Socket Tester Holder visit https://super-rod.co.uk/jakoda-socket-tester-holder/ or contact us at sales@super-rod.co.uk or by phone on 01495 792000.