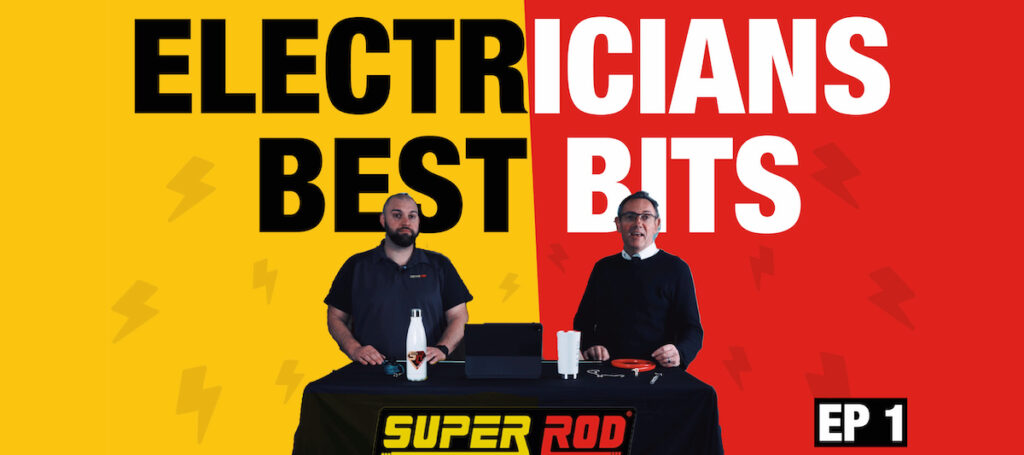 Our Electricians, our Heroes – New Series on YouTube
At Super Rod, we are inspired by the positive impact our tools have on electricians' work and lives. That's why we have created the "Electricians' Best Bits" series on YouTube.
Our Managing Director, Malcolm Duncan, and Product Development Expert, Sam Horseman, have handpicked their favourite videos of electricians using Super Rod tools from around the country.
In the first instalment, Malcolm and Sam react to three amazing videos from electricians using Super Rod. The first video shows @visiontechnologyltd using the Cable Tongue Pro with the Chain and Magnet, to install cable in a residential property, showcasing how combining multiple Super Rod products can solve problems on the job site. Vision Technology Ltd is a security system installer based in Liverpool. It's a family run business providing Intruder Alarms, HD CCTV Systems, Access Control and Public Address Systems. They are doing Domestic and Commercial.
Peter Sanders is the man behind the company, and he is part of our Elite Testers programme. A popular account on Instagram with 25k + followers and renowned for the way they cleverly use the Super Rod products and manage to hide cables for aesthetic reasons.
According to Sam, "This is a prime example of how innovative our customers are, a combination we have never seen before."
The second video showcases @ alo_electrical_and_security using the Super Beam to add some fun to their work while also lighting up a dark space for cable installation. Alo Electrical and Security is a Shropshire based company, working in domestic and commercial areas. They do different type of electrical work including remedial work, emergency lighting, EICRS, fire alarms, CCTV and more. He has been using our products for over 10 years and loves them.
Comments from Alo: "The main reason I like the Super Beam is it lights up the end of the rod, so when working alone you cannot always see the rods in the roof spaces or voids. but you can normally see the Super Beam allowing you to find the rods, so you can pull the cables though."
The final video features @camelectrical using the magnet of the Gekko Gripper to install cable behind a wall. The Gekko Gripper was designed to make electricians' jobs easier when routing cables through floor voids, but as this video shows, electricians are finding creative ways to use it.
Carl from Cam Electrical is a domestic electrician located in Weymouth, Dorset. He works by himself for himself. Mainly working in domestic scenarios carrying out typical domestic electrical work: board changes, rewires, kitchen updates, EICR's etc. He has a few Super Rod tools that he regularly uses: Gekko, mega set and the cavity master. All are really useful for getting around awkward situations.
Watch the video here https://www.youtube.com/watch?v=tULa8GxCf_k&t=4s
Big shout out to the electricians featured in this video, you are our heroes!
We would like to extend an invitation to all electricians to send us their videos to be featured in the next episodes of our "Electricians' Best Bits Wall of Fame". To participate, all you need to do is film yourself using your favourite Super Rod or Klein Tools product and tag us on social media.
We are always excited to see the creative and innovative ways electricians are using our tools to make their jobs easier and more efficient. So, send us your videos and let us showcase your skills in the next instalment of the "Electricians' Best Bits" series!
For more information please contact us marketing@super-rod.co.uk or on any of our social media platforms.