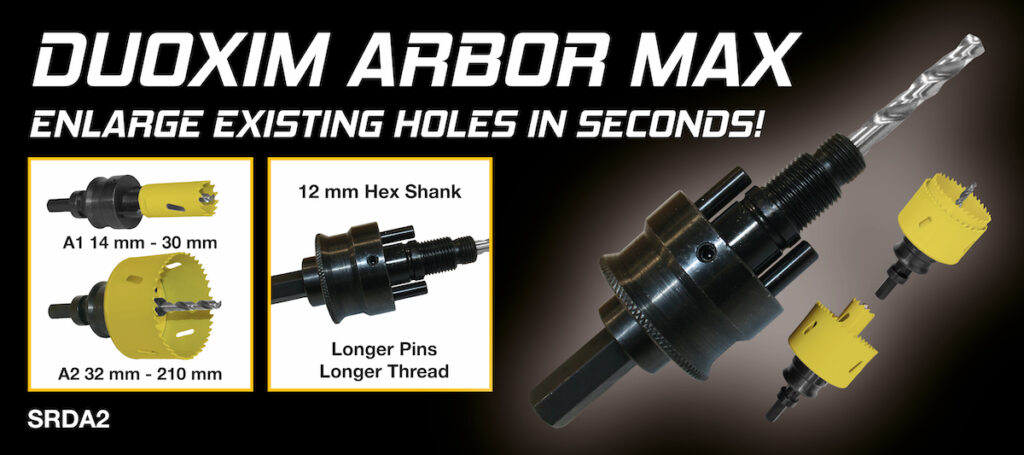 #WorkingSmarter – The New and Improved Duoxim Arbor Max
Do you find yourself constantly widening holes to fit new downlights? It can be a tedious task, but fear not, the new and improved 'Duoxim Arbor Max' from Super Rod has got you covered. This innovative product is a game-changer, the perfect solution to enlarge existing holes professionally in seconds.
Originally designed by electrical contractor Kyle Gamble from St Albans, the Duoxim Arbor has undergone an upgrade. You can now fit a smaller hole saw on the same arbor, saving you the trouble of using multiple arbors for different size hole saws. This updated feature not only makes the job more efficient but also saves you money by eliminating the need to purchase multiple arbors.
The Duoxim Arbor Max is perfect for creating clean and circular holes, which is essential when installing downlights. With this product, you can ensure that your fittings look professional and are of the highest quality. The tool also saves you time, which is always a valuable commodity in the electrical trade.
Kyle Gamble's invention has revolutionised the hole-enlarging process, making it quicker and easier than ever before. The original product was an instant hit and has now been improved to better serve your needs.
Malcolm Duncan, Managing Director of Super Rod, said, "Great ideas come from installers working in real working situations. We are delighted to have Kyle's product as part of our range."
If you're an electrician or an avid DIY enthusiast, you need the Duoxim Arbor Max in your toolbox. Whether you're installing new downlights or simply widening existing holes, this innovative tool will make the job a breeze. Get your hands on the new and improved Duoxim Arbor Max today and start working smarter, not harder.
For more information about the product visit https://super-rod.co.uk/duoxim-arbor-max/
Find the Duoxim Arbor Max at your local wholesaler or online by searching for item SRDA2.
If you have a product idea that you would like to discuss with Super Rod, please contact us via developmentideas@super-rod.co.uk