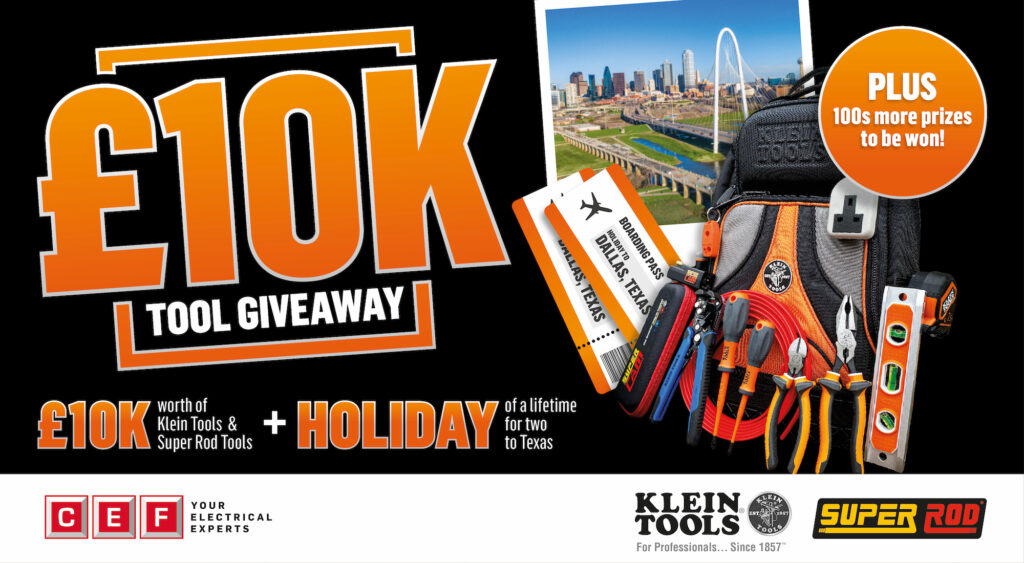 Win £10,000 worth of Klein & Super Rod tools + A once in a lifetime trip to Texas for two!
At Super Rod, we value and reward loyal customers.
Following a successful 2021 campaign, September 2023 marks the return of the 'BUY TO WIN' promotion in partnership with CEF offering customers OVER £50,000 worth of prizes.
So how does it work?
From 1st September to 31st December simply buy any Klein or Super Rod products at CEF in store or online and you can enter our amazing prize draw. The first step to take is to register your details onto www.cef.co.uk/buytowin13 to make sure you are signed up. Once signed up you will be automatically entered in the prize draw.
Incredible Prizes – What's in Store for the Top Winners?
An incredible first prize including £10,000 worth of tools (£1,000 worth every year for 10 years) and a trip to Texas for two, all expenses included, with a chance to visit Klein's world class manufacturing facilities.
Additionally, one lucky runner up will win £5,000 worth of Super Rod and Klein Tools (£1,000 worth to spend each year for 5 years). Top prize winners will be advised by their local branch manager and invited to their local branch for a prize handover with representatives from CEF and Klein Tools / Super Rod.
Introducing 'Win it Wednesdays' and 'Super Saturdays' Prizes
Get ready for double the excitement with an incredible opportunity to win big every week! Every Wednesday and Saturday, two lucky winners will bag fantastic prizes that are sure to delight.
Every Wednesday, you could be the proud owner of a Sonos portable smart speaker, the epitome of premium sound quality and cutting-edge design.
Once a month on a Wednesday, a complete toolkit worth £500 including top-tier tools will be awarded, the perfect starter kit for an electrical apprentice.
But that's just the beginning. 'Super Saturdays' prizes will be even bigger and better including smart TVs, iPads, Apple watches etc. The last Saturday of the campaign promises a tech extravaganza with a complete home cinema set up for the lucky winner.
Additionally, daily winners will stand a chance to instantly win a £10 Costa e-voucher – a delightful treat that can brighten your day and elevate your coffee experience.
Unmissable Deals + A Contribution to a Good Cause
In addition to this fantastic competition, you can benefit from great savings across popular products from the Super Rod and Klein Tools range https://www.cef.co.uk/buytowin13
There is a brand-new Klein Tools VDE screwdriver set in the deal! Klein Tools has teamed up with City Electrical Factors to launch a limited-edition VDE insulated 8-piece screwdriver set to raise money for Macmillan Cancer Support. For every set sold, £5 will be donated to the charity*. The set is available for £59.95 + VAT https://www.cef.co.uk/catalogue/products/5243822
Amongst the offers, the Super Rod Super Cam can be purchased for £119.95 + VAT! A valuable piece of equipment available at a fantastic one-off price. The Super Cam has been increasingly popular among installers, saving them a lot of time on the job. https://www.cef.co.uk/catalogue/products/4956697
Join In to Win: The Thrill of Being Part of the Game!
Convenience and availability are key when it comes to products. You will find Klein and Super Rod products online at cef.co.uk, on the CEF App or at your local store. You only need to register once to the competition, then anytime you buy any Super Rod or Klein Tools, you will automatically be entered in the prize draw. The more you spend the greater your chance to win but there is absolutely no minimum value required to participate.
The amount spent determines how many entries into the competition. See the entry system below:
Spend under £25 = 1 entry plus 1 instant win play
Spend over £25 = 2 entries plus 2 instant win plays
Spend over £50 = 3 entries plus 3 instant win plays
Spend over £75 = 4 entries plus 4 instant win plays
Spend over £100 = 5 entries plus 5 instant win plays
Super Rod Managing Director, Malcolm Duncan comments: "We are extremely excited to be working with CEF on the Buy To Win competition for the second time around and reward those loyal customers with incredible prize and a once in a lifetime opportunity. Not only win more tools than they could imagine, but also a unique chance to visit our manufacturing base in Texas. So, a big thank you from all the team at Super Rod, and good luck with your entry! #workingsmarter certainly pays, and the more times you enter, the more chance you have to win."
. Campaign starts Sept 1st and ends Dec 31st. For more information about the campaign visit www.cef.co.uk/buytowin13. Alternatively, call 01495 792000 or email sales@super-rod.co.uk.
*For every Klein Tools 8-piece VDE Insulated Screwdriver Set sold, City Electrical Factors Limited will pay £5 plus VAT to Macmillan Cancer Support* a registered charity in England & Wales (261017), in Scotland (SC039907) and in the Isle of Man (604) Also operating in Northern Ireland.
Paid to Macmillan Cancer Support Trading Limited a wholly owned subsidiary of Macmillan Cancer Support to which it gives all of its profits.