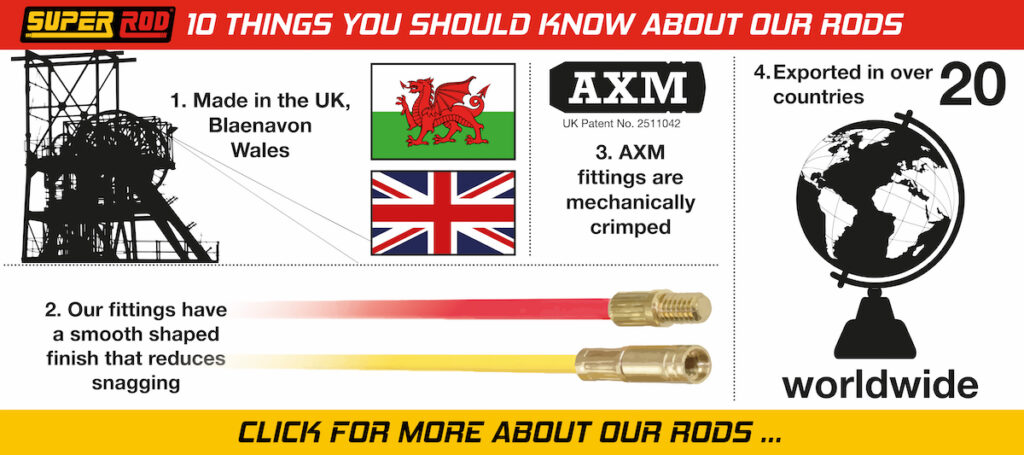 10 Things You Should Know About Super Rod
This blog is a bit about us! We like to think of Super Rod as a big family, involving both our team as well as the hundreds of thousands of customers we have all over the world.
In this blog, we are exploring 10 things that every electrician should know about Super Rod. Learn more about our Welsh origin and the fantastic versatility, flexibility and strong performance of the products. So, whether you're a professional or just starting out in the electrical industry, read on to discover why Super Rod products are really popular and loved by electricians in the UK and beyond.
Super Rods are a product of exceptional quality and craftsmanship, made in the town of Blaenavon, Wales. With a proud history of manufacturing excellence and a commitment to innovation, Super Rod has established itself as a leader in the electrical industry.
One of the most distinctive features of Super Rods is their smooth, shaped finish. This design element not only enhances their aesthetic appeal, but it also reduces the risk of snagging on cables and other obstacles, making them ideal for use in tight spaces and hard-to-reach areas.
As opposed to other rods in the market,  Super Rod cable rods AXM fittings are mechanically crimped, providing them with the strength and support they need to withstand the demands of daily use. This is particularly important as contractors are required to pull more and more cables through more challenging terrains. The mechanically crimped AXM fittings allow an optimal tensile strength for the requirements of the industry today. 
Super Rods have proven to be highly popular with electrical professionals across the globe, and they are now exported to over 20 countries around the world. This is a testament to the quality and reliability of the product, and the confidence that electricians have in its ability to make their job easier.
To ensure that every rod meets the highest standards of quality and performance, Super Rod uses a tensiometer to rigorously test each one before it leaves the factory. This means that electricians can be confident that every rod they purchase from Super Rod is up to the task and ready for use.
With a range of five different levels of flexibility, Super Rods are designed to meet the specific needs of every electrician. The colour of each rod corresponds to its level of flexibility, from the least flexible black rod to the super flexible white rod.
Super Rod has been recognized for its exceptional products and innovative approach to the electrical industry, having won multiple awards over the years. One of the most notable is the NICEIC Best Product of the Last 50 Years (1956-2006) award. 
The company has also received the prestigious Queen's Award for Enterprise: Innovation in 2008, further reinforcing its reputation as a leader in the field. This recognition was awarded for saving over nine million labour hours in a single year – and that was all from reducing the time it takes to install cable. 
Super Rods are built to last and to withstand the demands of daily use, with the ability to carry loads of up to a remarkable 250KG. This makes them an ideal choice for electrical professionals who require a strong and durable tool that can perform well under pressure.
All Super Rods are made from Adoxim 5, a proprietary material that has been specifically developed for use in electrical applications. This material offers a number of unique benefits, including resistance to splintering and increased flexibility, making Super Rod the ideal choice for electricians who require a tool that is both tough and flexible.
In conclusion, Super Rod cable routing products are a must-have for any electrician looking to take their skills to the next level. With their high-quality construction, versatile design, and innovative features, they are the perfect tool for professionals who demand the best.
Click here to view the infographics https://issuu.com/superrodltd/docs/10_things_you_should_know_about_our_rods
For more information contact marketing@super-rod.co.uk or call us on Tel: +44(0)1495 792000