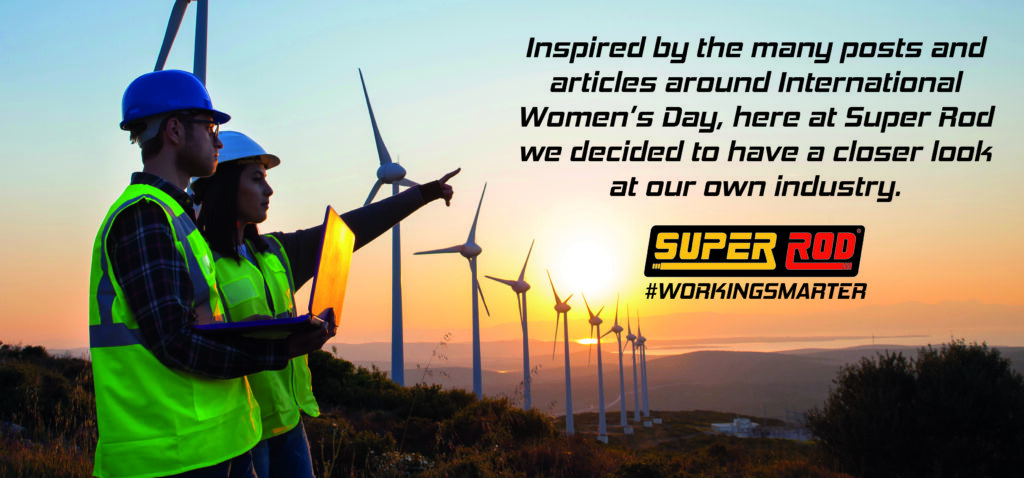 Inspired by the many posts and articles around International Women's Day, here at Super Rod we decided to have a closer look at our own industry, where still only about 3% of roles are carried out by women. The good news is that the numbers are rising, and there are some strong role models in some key influential positions leading our industry, below we have listed a few that we know and respect, this list is in no way an order of merit, just a selection of some of the industry leaders we come across in our daily lives:
Louise Tarling – Director at Louise Tarling Ltd
One of the industries pioneers in the IOT and its application in both a domestic and commercial setting. Louise has been sharing her story, and her work across social media, inspiring many to embrace new technology. Her passion for her work and the quality of the installations is a true shining example of what can be done in today's world.
https://www.linkedin.com/in/louise-tarling-340800188/
Tessa Ogle – CEO at the Electrical Industries Charity
Head of our main industry charity for nearly 7 years, Tessa and her team have revolutionised the way the EIC is both perceived and operates. Delivering high levels of support to those in need from all aspects of the Electrical Industry. This revolution has been delivered with a combination and passion, enthusiasm and laser focus on delivering results. It is not an exaggeration to say that Tessa and her team are saving lives on a regular basis, and also bringing people back from the brink to re-build their futures.
https://www.linkedin.com/in/tessa-ogle-4181b323/
Lynne Jhangeer – Global Commercial Director at Linian
Coming from a family of contractors, and with over 15 years' experience in Electrical Wholesaling, Lynne now heads up the global marketing efforts of the truly innovative Linian group of companies. Another strong advocate of Best Practice and personal development for everyone in the business and the wider industry, a real beacon of creativity in what some would call a traditional industry.
https://www.linkedin.com/in/lynne-jhangeer-4925801a/
Margaret Fitzsimons – CEO at the Electrical Distributors Association
Leader of our industry's trade body for over 8 years now, representing the members of the Electrical Wholesale community. A strong advocate of Apprenticeship programmes and the overall up-skilling of people at every level. Also actively involved in the advancing technology required to keep our supply chain competitive and efficient via the ETIM role out.
https://www.linkedin.com/in/margaret-fitzsimons-686540/
Louise Adamson – Workplace Safety Speaker / NEBOSH Ambassador
For over 15 years Louise has been sharing the story of her young brother's tragic death while working on a construction site in 2005. His tragedy was avoidable and Louise along with her many supporters has dedicated a huge amount of effort over the last 15 years in educating and preventing others from the same fate. Today the subject of Safe Isolation is much more visible and those in the industry are much more aware, Louise has played a key part in this, and ultimately saving many from either serious injury or worse.
https://www.linkedin.com/in/louadamson/
As you can see above all included are achieving great things and initiating real change across our industry, as mentioned before this is only a snap shot of people we know, apologies for any of those not mentioned.
In summary, our world and our industry are evolving, and rightly so, not quick enough for some, and too quick for others. The reality is our future needs to recognise and support those who are key to driving our industry forward regardless of gender or any other differentiation we care to look at, a truly inclusive mindset is the only way forward.