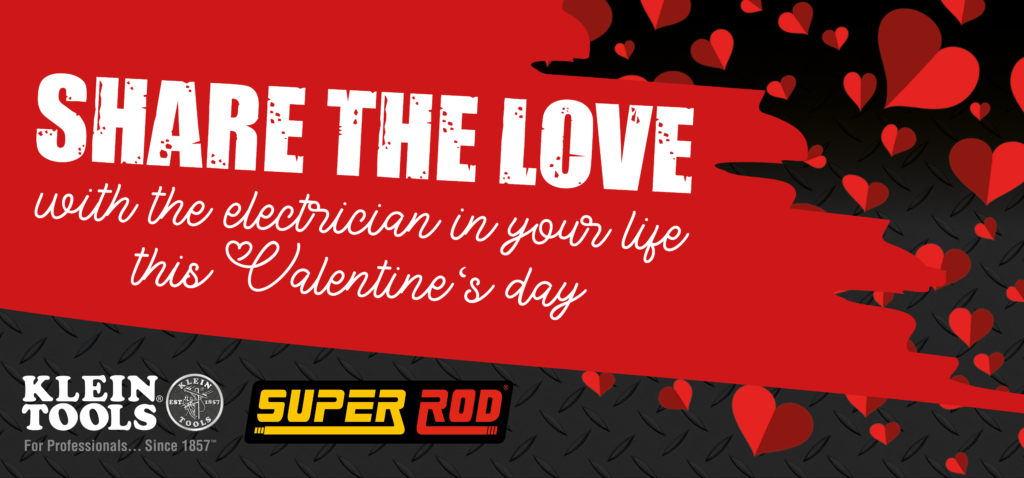 Share the love with the electrician in your life this Valentine's day
Whether you are a qualified electrician or just starting on your journey as an apprentice electrician, there's something on this list that you will like!
From functional items like torches that any tradesman needs in his arsenal to more specialised items like VDE tools made just for electricians, these gift ideas will inspire your favourite electrician.
Klein Tools Rechargeable Waterproof LED Pocket Light with Lanyard
Electricians do it better in the dark with good quality lights. This is the perfect everyday pocket light for any electrician. You'll be pleased to hear that this torch turns back on in the same mode you last turned it off, so fewer clicks are needed to get to your favourite mode. It's compact, yet rugged, and features IP67 waterproof and dustproof, making it a durable, versatile light for daily use on the jobsite. So, what's not to love?
Klein Tools Slim Profile Mini Ratchet Set, 5-Piece
Save your favourite electrician time and pain with this tiny tool made for big hands that have to get into small places. This is the perfect answer for fastening in small, tight spaces. There are 5 bits in the set and each slide into a 72-tooth ratchet for the best torque possible.
Klein Tools 5-Piece Set of VDE Insulated Screwdrivers
Keep your loved ones safe with this fantastic 5-piece set of VDE screwdrivers. They meet or exceed the IEC 60900 and ASTM F1505 standards for insulated tools and are clearly marked with the official 1,000-volt rating symbol. They also feature an anti-roll design preventing tool loss, while the slimmer tip provides easier access to circuit breakers and other tight spaces. This gift will guarantee a big smile on his face 😊
Be forever loved for this unforgettable gift that will save the electrician in your life hours and hours of pain. This seems like a simple tool but this is an essential item for any electrician. The Cable Tongue Pro, like his little brother the Cable Tongue, is designed for pulling cables through walls, above ceilings, below floors and anywhere else a cable needs to go. It's FLAT, therefore it will keep a straight path up the wall. Thanks to the new fitting, the Cable Tongue Pro can now be used with a range of Super Rod attachments and comes with a 11-15 mm Super Grip, Domed Bullet and Mini Hook included. A gift that will make your favourite person very happy.
Klein Tools Camo Bundle (5139C-B)
Who doesn't love a bit of camo? The camouflage pattern is now becoming a top fashion trend and in the electrical world, used for tool storage. Your electrician friend is likely to fall in love with this camouflage Zip-up Bag which keeps his tools and accessories organised. The heavy-duty zip keeps it securely closed too! Perfect little gift to stay on trend!
Klein Tools Tradesman Pro™ Tool Bag Backpack, 39 Pockets
Make Valentine's day one to remember this year by gifting your Valentine one of the most popular backpack in the Klein Tools range. With 39 pockets for plenty of tool storage, including a hard, moulded front pocket and a front zip-up pocket, this bag will brighten their day. The bright orange interior helps find tools faster. The durable moulded base protects from the elements and is water resistant. With one of the most comfortable and practical backpack they'd wish for, it will fill their day with all the love and happiness they deserve.
For more information about any of these products contact us sales@super-rod.co.uk or T: +44(0)1495 792000.