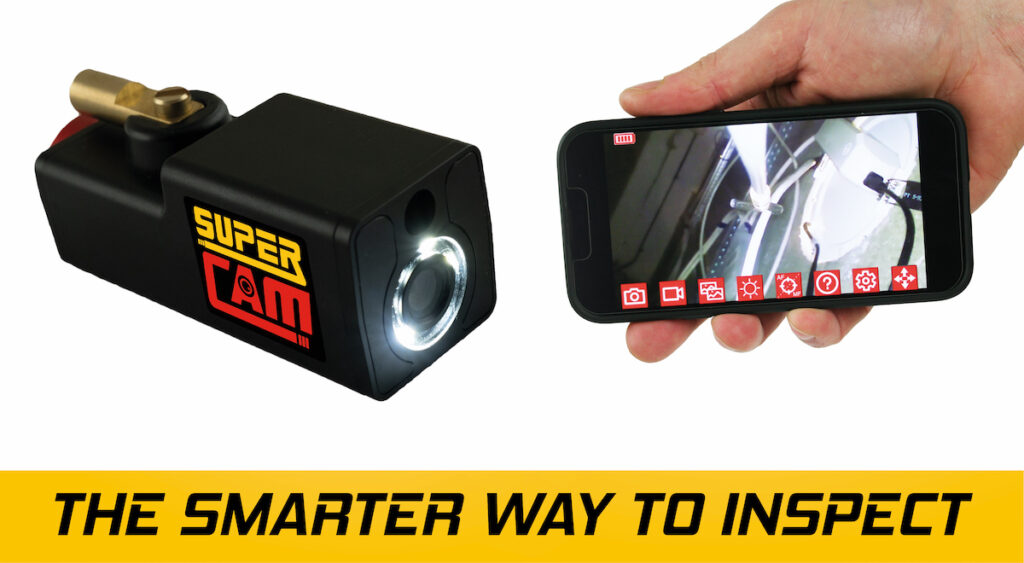 Super Rod extends its range of inspection cameras with the Super Cam
Inspection cameras have been part of the #workingsmarter range of Super Rod products for over 15 years, starting with the launch of our original camera in 2005.
Embracing the latest developments in the electronic technology has led to the launch of the SRCAMV6.5 Super Cam, an innovative wireless inspection camera with a 20m range. The camera is a compact and light tool helping users save time during cable installation, increase accuracy whilst doing inspections reports and quotations, work safer and easily find faults.
So how does it work?
A built-in Wi-Fi hotspot allows you to connect the Super Cam to any smart device. Then, a completely free to download from Google Play and Apple Store Super Cam app gives you access to all the fantastic features.
Super Cam to the rescue!
Limited access to certain areas can make inspections and fault finding particularly painful and lengthy for electricians. Furthermore, limited access can lead to incomplete inspections and deficiencies may not be discovered as a result.
The Super Cam records in real time high-definition photos and videos directly to a smart device, making it a powerful tool for inspection and test. It also allows users to take photos of what they are viewing at any time while recording video. This means they can capture anything interesting or important and include any images/videos as part of their inspection report or EICR.
Jam-packed with innovative features
Increase precision and visibility on inspections with this innovative tool featuring six white adjustable bright LEDs allowing you to inspect in dark areas.
In the camera settings, users have the option to set the 'always up' viewing mode so when the camera rotates the image on the screen stays the right way up.
Bringing innovation to its maximum, Super Rod has included a shared device functionality as well allowing you to connect the camera to multiple devices at the same time. This will particularly be useful for a team of trade professionals working at different locations in the same building.
With the auto/manual focus as well as the digital pinch zoom features, users can increase visibility and save time in the installation of cable and fault finding.
Access can sometimes be an issue when using the camera at the end of the rods and therefore a 180-degree angle adaptor has been added at the top of the device. This brass fitting can be orientated in different directions allowing the use of the camera from different angles. This gives more viewing angles and helps get better control in narrow spaces.
Documenting your work has never been more important especially in line with the new regulations for inspections of electrical installations. The innovative camera allows you to record videos with sound and submit accurate reports and quotes to your customers.
A non-contact voltage detector (50V-1000V AC) has also been incorporated into the device giving you a visual and/or audio alert anytime the device goes near any live cable.
At Super Rod, we take quality and testing very seriously so rest assured that this latest product is built with the end user in mind. The camera is manufactured with premium quality components, IP67 dustproof and waterproof (when back cap is securely fastened) ensuring maximum durability and longevity.
Fast charge the Super Cam with the USB charger Type C in less than an hour which will give you an hour and a half battery. The app includes a battery level indicator alerting you when it's time to charge the device.
What's included in the kit?
The camera comes in a smart padded zipped case containing all the accessories you need for multiple configurations of use i.e., Gooseneck, Flexi Lead, Super Magnet, Tuff Hook, Male Gender Changer and Adaptors.
The camera connects to your rods via the brass fitting at the top ensuring a perfect connection with the rods or telescopic stick, also included in the kit.
All accessories are Super Rod accessories, manufactured from premium quality and tested for strength.
The Smarter Way to inspect
Inspection cameras are now an integral part of any electrician's tool kit and with the launch of the Super Cam, Super Rod creates a 'Smarter Way to Inspect'.
Speed up visual inspections
Accurate inspection reports/quotations
Easier fault finding
Safe working in hard-to-reach places
Time-saving cable installation
For more information visit https://super-rod.co.uk/supercam/ alternatively call Tel: +44(0)1495 792000 or email sales@super-rod.co.uk.