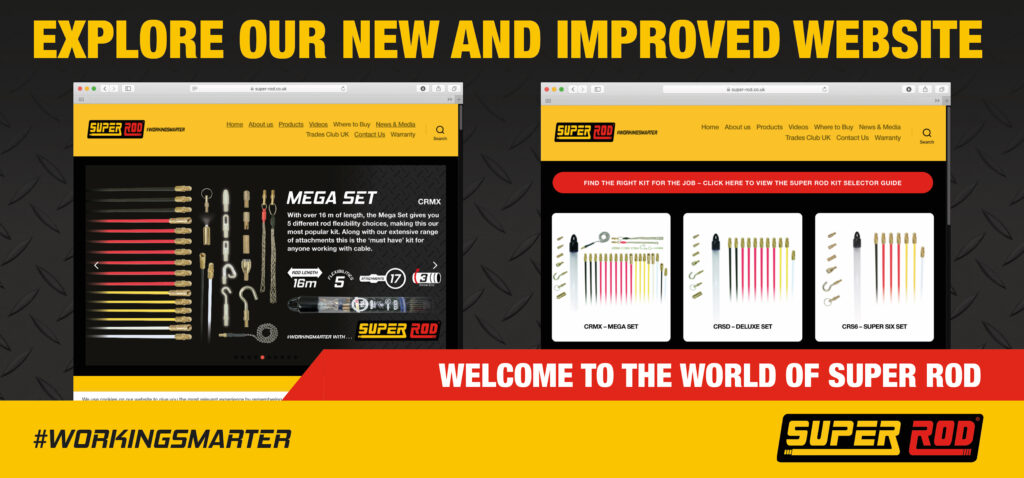 The home of #workingsmarter
After many months of hard work and dedication from our team at Super Rod, we are pleased to announce the launch of our new website, home of #workingsmarter!  
Our primary goal during the redesign process was not only to refresh the look of the website but also create a more valuable, user-centric and responsive resource across all platforms and devices. Specifically, we wanted to focus on making it easier for our users to learn and locate valuable information about our products from their mobile devices.
We also have improved our news and media pages, so visitors can see what's happening in the Super Rod world with updates and content being posted continuously.
The 'Products' section is split into our main categories i.e. Rod Sets, Accessories, Pulling Systems, Inspection Cameras etc. so one look and users will see how easy it is to find the products they want.
Every product is on display, in-use images and product videos guide users around the application for the products which helps with their purchasing decision.
Vicky Molloy, Graphic Designer at Super Rod commented on the launch, "The new website contains in-depth product and technical information. Many of our customers periodically require more information; we have listened to our customers' needs and delivered what they want. Amongst many other changes, we have also upgraded our 'Where To Buy' section, making it easier for installers to find their local Super Rod stockist".
Check out the Home Of #workingsmarter at www.super-rod.co.uk
For more information, please contact 01495 792000 or sales@super-rod.co.uk