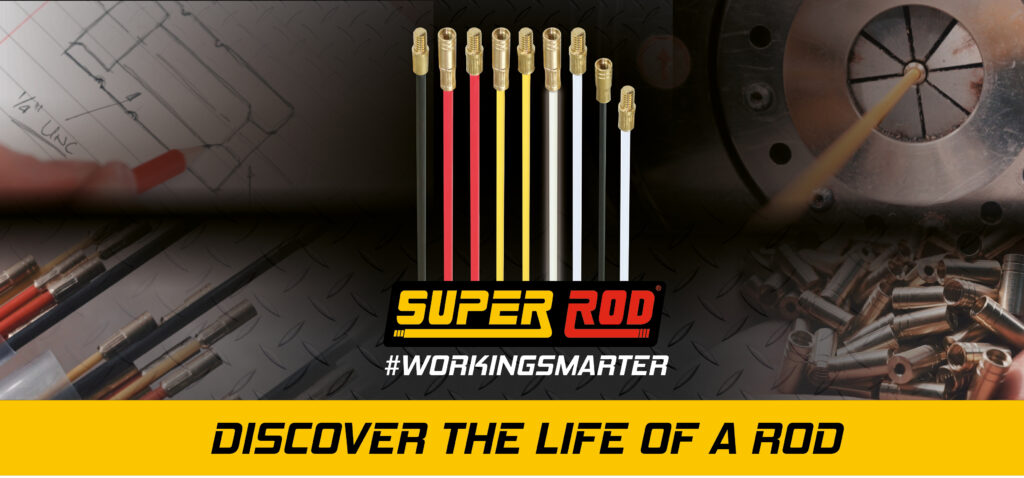 The Life of A Rod
How Super Rod Manufacture Their Rods
Have you ever wondered how we create our cable rods?
We design, produce, and inspect hundreds of thousands of rods a year.
In this video we follow a cable rod on every step of its journey from sketch to drawing, machining to testing, assembly to packaging to the wholesaler to the electrician.
This is the Life of A Rod…
WHERE IT ALL STARTED
It was during 2001, when we started to design and build our cable rods here in the amazing Welsh Valleys. Our goal when we started was to provide a solution to help electricians save time, reduce frustration, and increase productivity! Our products have evolved over the years as we are always looking of ways to innovate and deliver.
We are proud of how much time and effort goes into every little detail of the design and manufacturing process. Our cable rods are made in the UK, hand assembled and individually checked by our production team.
Here is a sneak peek at all the steps involved in this process:
Design
Design was key to ensure the right balance between strength and flexibility required by our customers using rods on a day-to-day basis. A lot of thoughts and research went into the design of the fittings in particular. Our strong metal fittings have a friction-lock action to keep rods more securely joined and a smooth shaped finish that reduces snagging.
Manufacturing Process
Producing quality products is of paramount importance to us at Super Rod. The use of the best material and state-of-the-art machinery allow us to manufacture a reliable tool, built to last. We take great care to produce to a consistently high standard.
All our rods are created with a special material called Adoxim 5®, developed by Super Rod specifically for professional trade use. This is exclusive to Super Rod, and as well as vastly improving handling, Adoxim 5® has both extra stiffness AND extra flexibility. In practice this means you can push a 'rod-train' further without it snaking AND you can bend it more without it breaking.
The Best Bonding Method – 100% Swaged!
Our bonding method is also what differentiates our cable rods from competitors' sets. We use a highly precise swaging process to produce all of our rods. Our production team screw the fittings onto the end of the rods. To bond the fittings and rods together, they get placed into a swaging machine.
The swaging machine use pressure to expand the end of our rods so our fittings can fit and make a permanent connection and ensure minimum tensile loads are continually achieved. If you look at the rod end fittings you will see the indents from this process.
Unlike crimping, swaging is consistent, ensuring minimum tensile loads are continually achieved. Furthermore, swaging is almost twice as strong as gluing and does not require any chemicals.
Strength Test
To ensure that we maintain this quality, we conduct tensile tests on every batch of rods, using a tensiometer. Each batch must pass a minimum of 200kg tensile load!
Packaging & Assembly
Every kit is assembled manually and individually checked by our production team. The tubes are built to last, as we know our customers will tend to keep them for a long time. The packaging is informative and all accessories packaged in a small container to keep them all in one place and tidy.
Destination
Our rod sets are shipped in 40 different countries all over the world.
In the UK, our rod sets are available at most wholesalers and online helping contractors work smarter, even on the most complex of installations.
90% of electricians use rods every day, and we are proud to offer a product manufactured in the UK to the highest quality standards that meet the needs of tradesmen involved with the installation of cable.
Watch the full 'Life of A Rod' video below:
Make sure you like, comment and subscribe to keep up to date with our latest content!