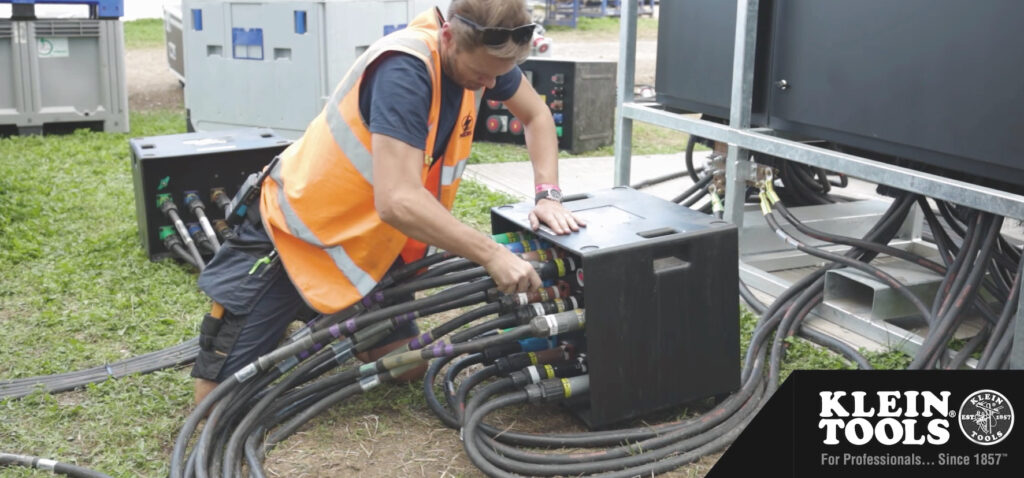 Powering up Reading Festival 2021 – Electricians' Experience
Have you ever wondered how some of the UK's biggest festivals get powered up? It's a question that many electricians often wonder but only a select few get to experience. We were lucky enough to capture backstage footage and interview Matt from Energy Generator Hire and Mike from Residual Current whose job was to power Reading festival to life.
Live music and related events generate over £1 billion every single year to the UK economy. Reading Festival is one of the most popular music festivals that takes place every year in England. Around 90,000 people attend with major superstars such as Post Malone, Liam Gallagher and Stormzy performing.
Can you give us a brief overview about yourself, your company and your role working at Reading Festival?
Matt: I was in charge of installing and maintaining the power installation for the main stage at Reading festival 2021. I'm a gold card accredited electrical engineer and I've been doing the events game for about seven years. I currently work for Energy Generator Hire, a company that can supply generator units that are suitable for everything from catering vans and marquee heating/lighting, to powering the whole sound and lighting systems for festivals.
I was based in the middle east and doing a lot of international events such as Jakarta Asian games, the special Olympics, FIFA World Cup, and a lot of Arab Royal Weddings.
Mike: Hi, my name is Mike, also known as Residual Current and I've been an electrician for almost 10 years now. I usually work in the commercial industrial sector but due to being a family friend of Energy Generators I'm fortunate to lend a hand at some of the biggest events in the UK. This line of work is quite different from install work, everything's temporary, everything needs to be installed very quickly and everything must work.
How long does it take to install the power installation for Reading Festival?
We are usually on site for two weeks installing the main stage, we have four 500 kVA generators in synchronized, 18 sets of power lock and running about 400 amps a phase.
What are some of the challenges you face working at these huge festivals?
Some of the main challenges about installing this sort of gig, is that you are working alongside quite a few other companies which are also trying to get their installation done as quickly and safely as possible.
We've got to install around them really and deliver their feeds exactly where they want. Getting the cable lengths and loads correct and voltage drop, you know it can be challenging but we got the right guys on site that can get it all done professionally and safely.
How much power does the main stage need for when the acts perform?
Once the show is running, before the acts come on, we could be pulling about 150 to 170 amps; when the acts go on stage, we can get up to 300 to 350 amps per phase. We are currently running two phase at 240 mill cable for the MDUS. Two 2000-amp panels we're distributing the main cables throughout the stage.
What about the VIP area? Does that require a different installation to the main stage?
The VIP guest area is powered by two 250 kVA generators that are synchronised together. The outgoing feed supply toilets, a bar, a DJ and various lighting rigs around the VIP compound.
What tools are essential to getting the job done?
Matt: We do use a lot of tooling, everything got to be tested. We do full periodic tests and inspect and phase rotation, every cable. We do have things that we have to repair like cable ends, so when we're doing that, we use the basic electrical tools all VDE insulated to make sure we are being safe.
we are maintaining all the kit on site, especially during show days. We got to make sure all the generators are serviced and running properly. As they are the main power for the entire stage. General faults can be issues with connectors if people drive over them, or if they unplug. Sometimes you get the distribution boards that break or fail so we have to swap them out pretty quickly. Once the installation is done professionally to a good standard, the site can run itself pretty freely.
I do have my tools on site at all times alongside me when I'm on standby. Just in case anything happens I need to be there very quick, to make sure no power goes down. My favourite sort of tools I use on site that I couldn't live without is the full VDE screwdriver set and all my test meters. I could not live without them! They are absolute life savers!
Mike: The right tools are essential in this line of work; you need quality tools you can trust to get the job done. The kit you use isn't that far from your usual electrician's kit, general hand tools, VDE cutters and screwdrivers are essential. With the source of supply being generators, you also want to carry your fair share of mechanical tools too.
How smooth do festivals usually run on your side as an electrician on site? Do you ever encounter any problems during the shows?
On most events, we always get last minute additions. They also tend to come the day of the event, so on this one, Post Malone asked for two times 250-amp feed stage left, so we had to install that rapidly and quickly, a lot of pressure to install that. The day before, Stormzy came and they wanted another 400-amp feed stage right, so we had to make sure we installed that correctly and make sure all the loads were balanced and that we could actually supply that power correctly.
Being an electrician on site, a lot of the time we get overlooked. Everyone sees the sound, the videos, the lightshow but they don't actually see what goes on behind the scenes with the electrical installation. At the end of the day, it all boils down to the electrics that are installed on site. If you don't have that, there is no event.
What is the best thing about being an electrical engineer working at Reading festival?
Matt: The best thing about doing this sort of job, is the team you get around you. The show opens on a certain deadline, a certain date, it doesn't matter whether you're ready or not so it can be very stressful and a lot of high pressure but when you get all the lads on site you all have good fun and lean on each other to make sure everything gets done to a high standard. You do get to see a lot of behind the scenes which is a lot of fun.
Mike: I love helping out at these events because you get to see the inner workings of massive UK events. You also get to know that you've lend a hand in helping deliver something that thousands upon thousands of people enjoy which is pretty cool. If you're on standby or on call on the night, it's not too bad either as you get to catch a few acts and not many people could say they get paid to enjoy these events so that is the biggest perk.
For backstage access, you can watch the installation process live on YouTube NOW!
Behind the scenes of Reading Festival with Klein Tools