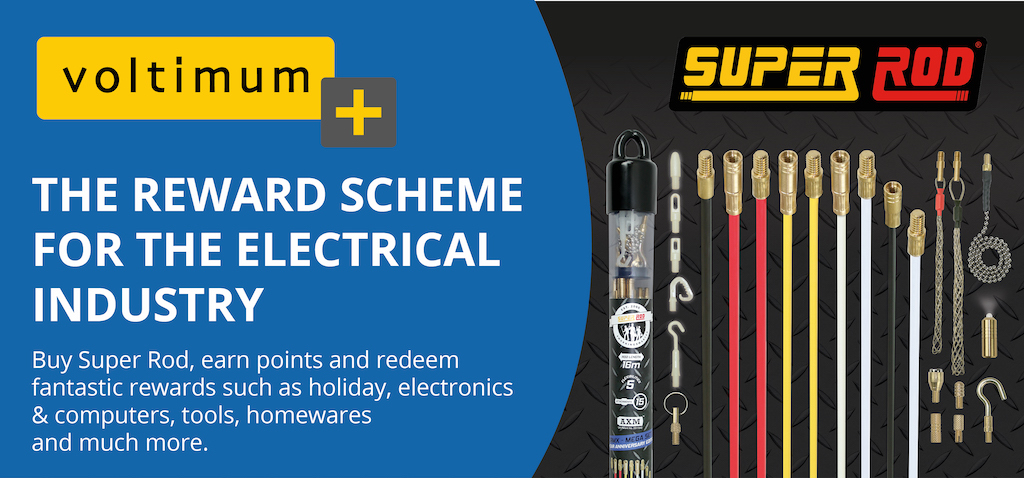 Shop Super Rod and get rewards points with Voltimum Plus!
We are delighted to join the Voltimum Plus rewards programme as one of the partners alongside top manufacturers such as Schneider Electric, Philips, LINIAN, WAGO.
What is Voltimum Plus?
A new initiative dedicated to the electrical industry, connecting manufacturers, wholesalers and electrical contractors, allowing the latter to earn points and redeem fantastic rewards such as holiday, electronics & computers, tools, homewares and much more.
Malcolm Duncan, MD at Super Rod, comments: "The last two years have seen the most dramatic changes in our industry, with many predicting the end of the high street, and ultimately "brick-and-mortar" stores". Voltimum Plus rewards our customers wherever they make their purchase either on-line or in store, and we are super excited to be part of this unique scheme that supports both our customers and distributors alike."
How does it work?
Simplicity is key!
A great opportunity for electrical contractors to be rewarded anytime they purchase one of the #workingsmarter Super Rod products, either in store or online, at one of the participating wholesalers – CEF, KEW Electrical, Medlock Electrical Distributors and Shop4 Electrical.
You also get rewarded points when you participate in promotional events such as training and webinars. These points can then be exchanged for electrifying rewards in the extensive rewards shop!
Why join?
Well, first of all, it's completely FREE!
And it is also EASY, you will never need to upload an invoice to get your points. When you sign up you'll be able to add your trade account number to your profile which means your points will automatically be added to your account every month.
Redeem what you want, when you want! When you are ready to redeem your rewards head over to the extensive rewards shop, where you can get anything from tools to tech, and even holiday packages. You may even decide you'd like to donate some or all of your points to our partner charity the EIC. The choice is yours!
Steve Hewish, Electrician comments: "I have recently joined Voltimum Plus, it's a bit like play your cards right but for electricians, keep buying your regular products, collect points and get rewarded with prizes! It's good to see companies making it worthwhile buying their products."For more information visit https://plus.voltimum.co.uk/