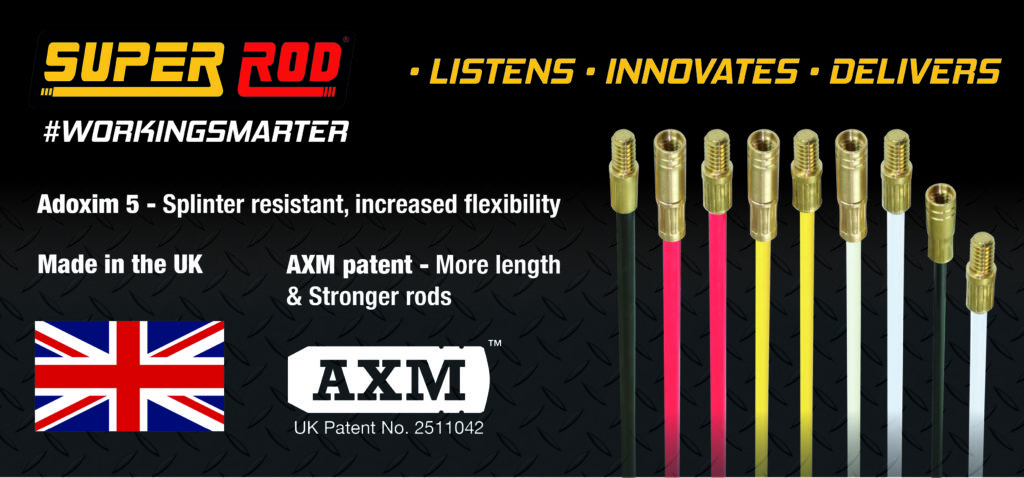 Choose Your Tools Well – Make Them Last
Want to know how thinking smarter when buying tools can save you money in the long run?
Choose well, prioritise quality over price
Most of us know that it makes good sense to 'buy once and buy well. But we get often tempted by low prices.
While healthy competition gives installers more product choice and a range of budget options, it's important to remember that cheaper rod sets also come with a price tag which reflects the quality of the product. Many lower-priced cable routing rods are made overseas from cheaper materials and don't represent good value from either a quality or safety perspective. While they may look the same as a more premium set, the difference couldn't be more pronounced once an installer starts putting them to work.
Premium rod sets come with a price tag which reflects the quality of the rods and attachments. Our Super Rods, for example, are UK manufactured, and made from a specially developed material – Adoxim 5® – designed for maximum flexibility and reduced splintering. They feature AXM fittings which are mechanically crimped to ensure they can withstand rigorous daily use – and as we all know, most installers use their rods every day!
Lower quality rods will break and splinter more easily – causing unscheduled downtime. And when it comes to our industry, time is definitely money. The attachments supplied in these cheaper kits are basic and don't have a particularly long life. The customer is left out-of-pocket, angry and frustrated that they didn't spend a bit more to get a better set.
Choose well, get a better customer experience
Great customer service is another reason why you should think twice before buying tools from a company. Being an electrician is a demanding job, not only physically but also mentally – you have to be able to think quickly and solve problems as well as making sure everything is compliant. For us at Super Rod, it's more about developing a long-term relationship than just making a sale. We have been listening to our customers' needs for over 20 years and we take great pride in offering excellent customer service.
Choose well, reduce the impact on the environment
Buying well also helps save the planet. We all need to change how we shop to play our part in the fight against climate change. We can all do something to reduce our impact as every product we buy has an environmental footprint and could end up in landfill.
This is more relevant than ever, with the UN Climate Conference (COP26) having just ended. It's time to re-evaluate our values, take the time to think about what we purchase and what we really need. It's all about buying tools that will last longer.
Choose well, spend smart
We should not beat ourselves up over the impulse purchase, but we shouldn't go for the cheapest option simply because it's cheap.
A good deal doesn't always mean spending less, its more about spending smart. Think smarter, choose well and you can ensure you save money in the long run.
For more information about our range of premium rods click here
https://super-rod.co.uk/?page_id=1557.
Alternatively contact us sales@super-rod.co.uk or T: +44(0)1495 792000.