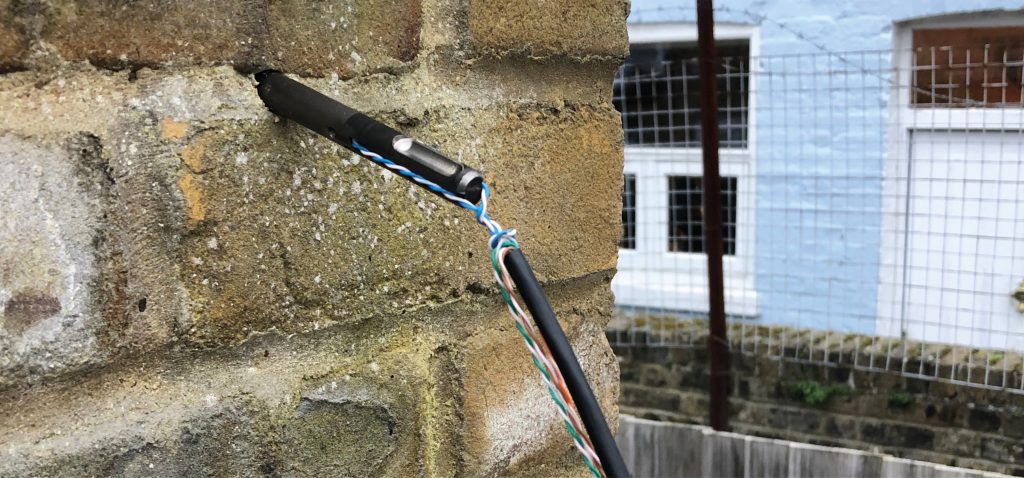 Quick through brick routing tool from Super Rod!
Super Rod has launched Quick Drill – an innovative new range of drilling solutions which offer a one-tool approach to passing cables or pipes through cavity walls.
Ideal for electricians, gas engineers and builders, the Quick Drill range includes four different specially adapted drill bits: the 10mm and 16mm Quick Drills (SRQD10 and SRQD16) are perfect for routing a variety of cables including electrical, TV, satellite, telephone, alarm and data cabling; while the larger 22mm and 28mm versions (SRSDQ22 and SRSDQ28) with sleeves are more suited to multiple cable or gas pipe installations.
The 10mm and 16mm Quick Drills are especially useful for jobs where there is rubble or insulation material in the cavity wall. To use, simply attach the innovatively designed drill bit to a standard cordless drill to make the hole through the cavity wall; the drill bit is then left in place while the cable is attached to a hole at the end of the drill bit before the Quick Drill and the cable are pulled back through the cavity wall.
Should the cable need to be routed the other way, simply detach the Quick Drill bit from the SDS and use the hole in the shank end of the bit to pull cables from the other direction.
For bigger jobs where multiple cables or gas pipework needs to be passed through much thicker walls, the 22mm and 28mm sleeved Quick Drills are the ideal solution. The 28mm sleeved Quick Drill is suitable for walls up to 225mm deep; the 22mm sleeved Quick Drill is suitable for walls up to 345mm deep. To use, simply put a sleeve onto the Quick Drill bit (this will be held in place using a top hat guide during drilling), drill through the cavity wall as normal and then remove the drill bit leaving the sleeve in place. The sleeve stays put within the wall to provide a secure and stable passage for cables and pipes.
The sleeved Quick Drills come in a starter pack with a ready-to-use sleeve, which can also be purchased separately. The SRDQ22 pack comes with a rigid black sleeve (Ø22 X 230mm) and the SRDQ28 comes with a rigid yellow sleeve (Ø28 X 230mm). The sleeves are pre-cut so there's no need to cut on site.
All of Super Rod's Quick Drill products are made from tough carbide for increased penetration, long tool life and maximum efficiency across many different types of materials.
Malcolm Duncan, Super Rod managing director said: "Routing cables and pipe work through cavity walls can be problematic, particularly if there is insulation, rubble or other obstructions in the cavity. With the Quick Drill range, these issues can be easily negotiated either through the use of a sleeve which stays in situ or by using the drill bit itself as the cable routing tool. It condenses the cable routing process through brick work into one single action, saving time on site and helping trades to work smarter."