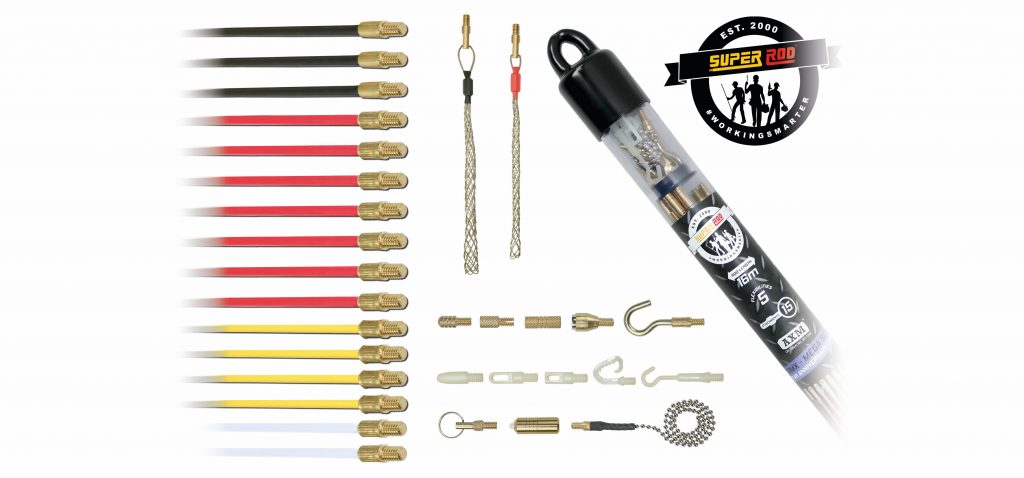 Get set for success
Since Super Rod launched the UK's first cable routing set back in 2001, demand for cable rods has grown exponentially. So it's no surprise then, that in recent years the lucrative cable routing market has become a key battleground for tool manufacturers, each one trying to offer something different to installers to take a share of the pie.
With so many different rod sets now on the market, how do wholesalers differentiate between them to maximise their own sales? Here, Super Rod managing director Malcolm Duncan gives his hints and tips for rod set success:
A lot has changed over the past two decades. Back in 2001, we launched our first cable routing rods to the market hoping for great things, and that we could convince the UK's installers to ditch their coat hangers and embrace a totally new way of routing cables. We needn't have worried. Today, there are more than 250,000 electricians registered in the UK, and nine out of ten of them say they use cable rods on a daily basis.
With numbers like these, it was only a matter of time before rod sets caught the attention of other manufacturers looking to extend their reach into the electrical industry and in 2008, the first competitor rod sets began hitting the market. This heralded a new era for cable routing rods and the race has been on ever since between tool makers to develop new attachments, rods and sets to try to get one step ahead.
While this rivalry has resulted in a healthy competition which has given installers more product choice and a range of budget options, it's also left a lot of electrical wholesalers wondering why they should put one set on their shelves over another. There's lots to consider, so let's start with product quality.
Quality
Premium rod sets come with a price tag which reflects the quality of the rods and attachments on offer. Super Rods, for example, are made from a specially developed material – Adoxim 5 – designed for maximum flexibility and reduced splintering, and feature AXM fittings which are mechanically crimped to ensure they can withstand rigorous daily use – because as we already know, most installers use their rods every day.
It's also then important to remember that cheaper rod sets also come with a price tag which reflects the quality of the product. Many lower priced cable routing rods are made overseas from cheaper materials and do not represent good value from either a quality or safety perspective. While they may look the same as a more expensive set, the difference couldn't be more pronounced once an installer starts putting them to work.
Lower quality rods will break and splinter more easily causing unscheduled downtime, and the attachments don't have a particularly long life either. The customer is left out of pocket, angry and frustrated that they didn't spend a bit more to get a better set.
For wholesalers, it's definitely worth checking online reviews and putting a few rod sets to the test to ensure they are of a quality standard that positively reflects the branch and its offer. Ultimately, this approach ensures installers walk out with a product that will last them for many years, and wholesalers avoid the headache of complaints and returns.
Innovation and USPs
One thing that will definitely set one rod set apart from another is innovation and USPs. Speak to different manufacturers and find out what they offer that the others don't or if they have something in the pipeline that is going to really drive sales. This could be anything from new attachments to new sets with new lengths or flexibilities, or even new glow in the dark accessories.
New attachments are particularly good as an upsell item either with the rod sets or other sales, as they are normally small enough to be displayed on the countertop for maximum visibility and encouraging impulse purchases.
Help to sell
If rod sets don't seem to sell well in your branch, don't be afraid to get your supplier in to help sell the products with you. After all, it's in their interests to help you generate sales. Find out which manufacturers will come along and do in-branch demonstrations or trade days to help you get your customers to upgrade or update their cable routing sets. You could also ask about what merchandising options are available to help you present the rods in an eye-catching way to grab your customers' attention.
Driving footfall
As well as helping you out in branch, find out what tool manufacturers will do to help drive people to you for their rod sets. Are cable rods a key line for them, do they have the budget to support joint trade advertising? And what about social media? Some manufacturers, like Super Rod, are particularly active on social media – we share regular posts with hints and tips on how to use our rod sets and attachments to keep them front of mind for our followers. These tips – such as which colour rods to use for which jobs and how to solve different problems with your attachments – can be quickly shared by our wholesaler partners to promote the products to their followers. Driving footfall is certainly a battle to be won off and online these days.
Brand awareness
Like any tool, installers have their favourite brands and wholesalers will want to stock the one/s that are most popular. But this is a particularly grey area for cable rod sets as they are all very similar in design (following the black, red, yellow, white colour scheme, tube packaging and with the fan of rods and attachments as a standard product picture) so at a glance it can be difficult for customers to differentiate between brands without a closer look.
What can compound matters further is that many installers refer to their routing rods as their 'super rods', using it as a generic term in the same way as people refer to vacuum cleaners as Hoovers – regardless of whether that's the brand they own or not!
Check with your customers to see what brands they currently own and what brands they'd like to see in store.
Industry awards
Industry awards are always a good indicator of whether a product is worth stocking or not, so find out what accolades different cable rod sets have won – particularly awards voted for by installers, such as the Professional Electrician's Top Product Awards, which are based on reader enquiries. This will give you some indication of which rod sets are impressing people working in the trade.
In a crowded marketplace, finding the right cable rod sets to stock in store can be very challenging and the onus is on the electrical wholesaler to cut through the sales patter and choose a supplier who ticks all the boxes, from the right product at the right price to the support and tools to sell them. Get it right and you can ensure that the 90% of installers who use rods every day come to you first for all their cable routing product needs.