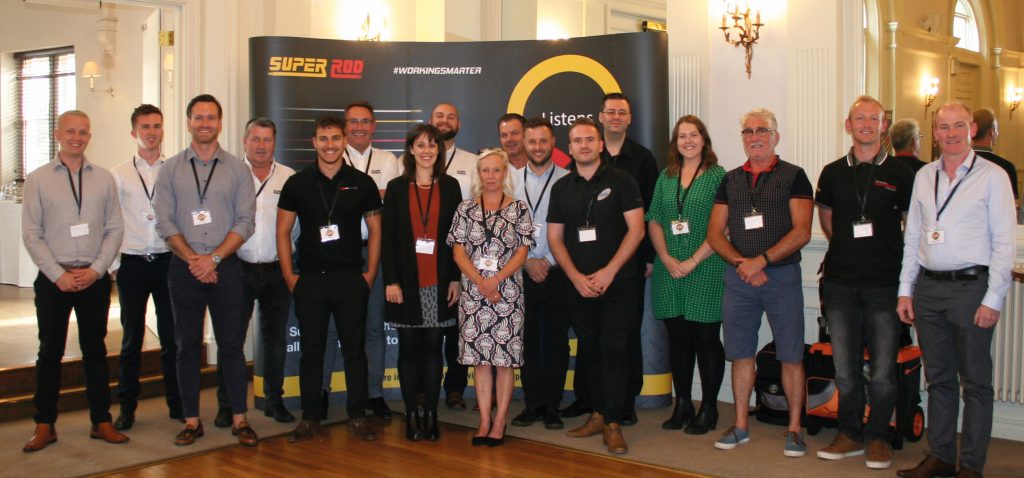 Installer ideas lead the way in new product development
On 12 September, Electrical Times was invited to a special 'Hall of Fame' event in Abergavenny to celebrate innovation and ingenuity in the electrical industry. Hosted by Super Rod, the event bought together people from across the sector – including journalists, social media influencers, industry innovators and the NICEIC alongside the real-life electrical contractors behind some of Super Rod's new and bestselling products.
Like those whose products he represents, Super Rod managing director Malcolm Duncan is a man of ideas – a visionary who sees the value in bringing new ways of thinking and doing to every aspect of the industry he has been working in for more than 40 years.
Under his guidance, Super Rod has become a champion of new ideas and the company works closely with electricians and contractors on the frontline, who come to them with prototypes they believe can offer a solution to a common problem, or a smarter or safer way of working.
Three such electrical contractors who have entrusted Super Rod with their inventions are Kyle Gamble, Tom Shelbourne and Patrick Lenaghan. While they have different skills and experience, they all share Super Rod's passion for the industry and can see a better way to do things:
Kyle Gamble
Kyle has been working in the electrical industry since he was 17 years old, and is the director of KG Electrical, an electrical contracting company based in St Albans. Kyle invented the Duoxim Arbor; a unique drilling tool which makes existing holes bigger with ease. It's ideal for widening a hole to fit new fire rated or LED downlights, and gives a uniform and tidy finish.
Kyle came up with the concept for the Duoxim Arbor when faced with a project to replace 200 downlights. He said: "It was a job in London, at a house just a couple of roads down from 'Billionaire's Row'. Every room in the house was covered in downlights, so when the client asked me how he could reduce his electricity bill I suggested replacing the halogen downlights with LED alternatives.
"His response was quite simple; 'I have just spent £40,000 having the house decorated from top to bottom; if you can do it without damaging the decoration, the job is yours'."
As he'd not long started his business, it was too big a job to turn down and Kyle was determined to find a way to do it.
"When I couldn't find the right equipment to help me widen the existing holes without damaging the surrounding surface, I set about designing and making a tool that would allow me to do the job – and now we have the Duoxim Arbor."
With the help of Super Rod, the Arbor launched in January 2017, and it was an instant hit with his fellow electrical contractors.
"I think the Duoxim Arbor's true value lies in its time saving properties. By swapping for a Duoxim Arbor to complete a hole enlarging job, instead of a pad saw for example, electricians easily save themselves an hour plus they get a much cleaner finish, so there's also less time spent making good. It's a £25 tool which essentially pays for itself in a single use."
Ironically, Kyle still hasn't changed the downlights for his client as he now has some new ideas. Maybe these will inspire Kyle's next big invention.
Tom Shelbourne
Tom is the owner and director of West Country Tech Ltd, a Devon-based company specialising in CCTV, Wi-Fi and networking installations. Tom invented the Cable Tongue; a flat and flexible tool designed for pulling cables through partition walls, above ceilings and below floors.
Tom said: "I worked in Australia for three years and while I was there, I saw electricians stealing tongue and groove flooring plastic to pull their cables. It was a revelation and something I thought lots more electricians would benefit from so when I returned to the UK, I designed the Cable Tongue based on what I'd seen.
"Initially, I started selling it on eBay, but then it was picked up by Super Rod and it just took off. It's been a real journey for me and all off the back of deciding at the age of 27 that I wanted to create something and start a business!"
Since the Cable Tongue launched two years ago, Tom has been managing its social media presence and collating customer feedback to see how he could improve on his design. Earlier this year, the Cable Tongue Pro hit the market, packed with extra features including a metal clevis fastener to make it compatible with Super Rod rods and attachments and a new pulling sock so installers no longer need to tape their cable on.
"Social media feedback and reviews really informed the product development process. I noticed that people were drilling holes in one end, so they could hook it from a distance. The new Tongue now comes with a hole already in it, plus a compatible hook attachment."
With the Pro equally as popular as its predecessor, giving the people what they want is a strategy which is certainly working out.
Patrick Lenaghan
Patrick is the owner of an electrical contracting business in County Louth in Ireland. He's been working in the trade for 30 years, and he's the inventor behind the QuikReel – a vertical spooling solution which does the job without the need for bars, racks or stands.
Patrick said: "For many years, I had experienced the pain and frustration of trying to get cable off a reel without setting up a complicated dispensing system. I just needed something small, sturdy, lightweight and self-contained, which could be used as soon as I took it out of the van – but there was nothing like it on the market."
"Then, while rewiring an old farmhouse, I stumbled upon an old enamelled dish and seeing the way it spun on its own axis sowed the seed for the design of my QuikReel. This was the Eureka moment for me."
The QuikReel replicates the dish's spinning top action, allowing users to simply place their cable drum in the cleverly-designed dispenser and draw cable off quickly, smoothly and safely as it spins on its axis. Designed to fit most popular reel sizes, the sturdy QuikReel has the added benefit of protecting the cable drum from getting wet or damaged too.
Patrick approached a few manufacturers with his prototype but with little interest, he had started to look at the cost of producing it himself – before he spoke to Super Rod, who were quick to snap up the invention for their portfolio.
"The QuikReel is a solution to a common problem that many electricians face every day. My invention is so simple – but it really works."
Advice from the inventors!
Tom says: "People complain they don't have the time to invent something but if you are passionate enough, you will work all hours outside of your working day to make it happen."
Kyle says: "The simplest ideas are the best ideas."
Patrick says: "If you experience and frustration with the way you do things, there's a good chance other people are having the same problem, so ask yourself "is there a better way to do this"?"
At the end of his opening address, Malcolm left us with an Apple-inspired quote; "Give people wonderful tools and they will do wonderful things." From seeing the passion and creativity which is coming from electrical contractors and manufacturers like Super Rod who support them, I believe we as an industry can do very wonderful things together.