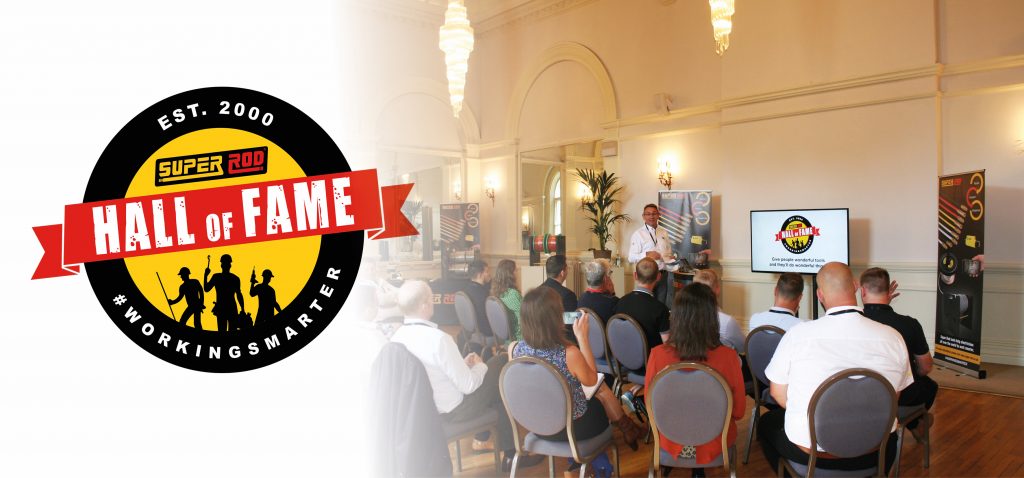 Innovation takes centre stage at the Hall of Fame
In September, Super Rod hosted a special 'Hall of Fame' event in Wales, to celebrate innovation and ingenuity in the electrical industry. Here, Electrical Wholesaler caught up with Super Rod Managing Director Malcolm Duncan, to find out why he believes genuinely innovative products and new ways of working are essential to keep the wholesaler sector fresh and moving forwards:
Electrical Wholesaler: Tell us a bit more about the Hall of Fame event
Malcolm Duncan: Super Rod is a company dedicated to innovation and bringing original products to market that help installers work smarter and safer. But while people in the industry associate our brand with new and exciting products, what they don't see is the people behind the products – our inventors, who are very often working installers who have come to us with a bright idea or prototype to solve a common problem.
So, the Hall of Fame was a moment in the spotlight for our inventors; a chance for them to present directly to the press, invited guests and influencers about their journey and the how/why behind their inventions.
EW. Do installer-led ideas make for better products?
MD: Definitely! Take the QuikReel for example, which was invented by Patrick Lenaghan, an experienced electrician from County Louth in Ireland. Patrick's business specialises in rewiring domestic, agricultural and commercial buildings and he was increasingly frustrated by the cable reels he was using getting snagged on objects on the floor, or on corners and doorways. A problem many electricians face.
Patrick had a eureka moment after discovering his cable reel would spin easily on its own axis when placed in an enamel dish he had found while rewiring a farmhouse. He used the dish as inspiration to design the QuikReel, which is a small, sturdy, lightweight and self-contained vertical spooling system.
As an installer-led design, we know the product works in the field and that it offers an affordable and practical solution to an everyday issue. It also has the added advantage of being backed up by Patrick's story, which is a powerful selling tool as it creates an instant connection to the product because it was designed by someone who really understands an electricians' needs and frustrations.
EW: It sounds like installer-inventions almost sell themselves! How can wholesalers maintain sales momentum with these original products?
MD: Great products often evolve over time – you've only got to look at the latest iPhone to know that innovation never sleeps! Our Cable Tongue, designed by Devon-based installer Tom Shelbourne, has evolved in much the same way.
The unmistakeable flat red cable routing tool is extremely popular and we were keen to keep the momentum going with it. Whatever came next though, had to offer something new and different otherwise why would people buy it? The answer came directly from the end users.
Tom has worked really hard on building the social media presence for his tool over the past two years so during the product development process, he used candid customer feedback to develop the original design into the Cable Tongue Pro.
For example, Tom had noticed that people were drilling holes in one end of their Cable Tongue, so they could hook it from a distance. As a result, the new Cable Tongue Pro now comes with a hole already in it, plus a compatible hook attachment which can be used with our routing rods. It also comes with a new pulling sock, so electricians no longer have to use tape to secure their cable to the Tongue.
For wholesalers, the selling argument for the Cable Tongue is clear – if you are looking for a tool to help pull cables through partition walls, above ceilings and below floors, try the Cable Tongue. If you've already got a Cable Tongue, you'll love the Pro. One doesn't replace the other, but there is a natural upsell from one to the next and thus the momentum continues.
EW: Are innovative products more expensive? This could put some customers off trying something new.
MD: It's true to say that innovation takes a lot more investment up front in product development and manufacturing costs, but this doesn't impact the price point for customers – they still get a great product for a great price. And for some of our products, their time-saving capabilities alone mean the return on investment is very quick.
Take the Duoxim Arbor. This unique drilling tool to enlarge holes (to fit a new fire rated or LED downlights) was designed by Kyle Gamble, who owns an electrical contracting business in St Albans. It costs £25, but when you start adding up all the hours it saves installers on site, it pays for itself very quickly.
By swapping for a Duoxim Arbor to complete a hole enlarging job, instead of a pad saw, installers could save themselves an hour plus they get a much cleaner finish. That hour saved equates to around £35 – based on the average day rate of a self-employed spark – so in one job it's paid for itself. Use it once a week and save up to £1,700 a year.
EW: How can wholesalers spot innovative products that will sell well?
MD: Social media buzz is a great indicator of what innovations installers really want to buy. Our Ferret WiFi™ – the multipurpose wireless inspection and cable pulling tool – has been a smash hit in the US, Australia and New Zealand and it's just scooped two industry awards in the UK.
Since we began posting about the Ferret on our social platforms, installers have been really keen to engage – when is it available, where can they get it… and as soon as they have one, they want to share their reviews of it.
While it can be difficult to predict how something completely original will land with customers, using social media as a barometer can be a useful tool in agreeing what should (or shouldn't) be on a wholesaler's shelves.
EW: Why are events like the Hall of Fame so important?
MD: The electrical industry is made up of many different tribes – from installers and contractors, to manufacturers and regulators – and getting them together doesn't often occur naturally! We understand the importance of cross-industry discussion in helping the sector to move forward, whether that's bringing forward new ideas about innovation or apprenticeships.
The Hall of Fame bought together people from across the sector – including journalists, social media influencers, industry innovators like Diode Electrical, and the NICEIC alongside our inventors. When you bring together like-minded people who are trying to push the industry onwards and upwards, there's lots of creative energy generated and we found guests making new connections with people they would never have met otherwise. It's inspiring how one vision to make the industry better, can unite so many.