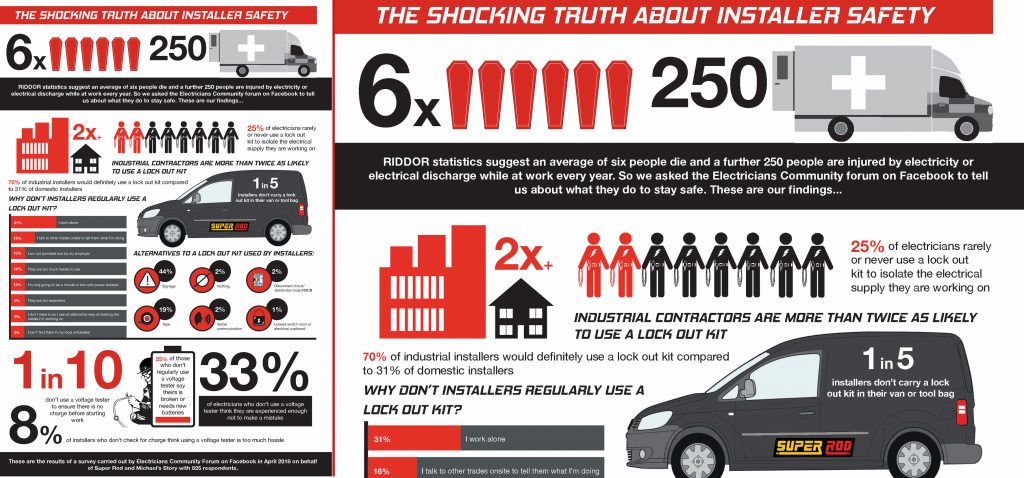 Using CSR to sell safety
Let's face it, safety is not the sexiest of selling points for a product. In fact, it's rarely a consideration before value for money, durability, functionality or brand as the top reasons to make a purchase. So to sell a product on its safety merits alone, wholesalers need to engage hearts and minds and this can be accomplished successfully through creative and thoughtful Corporate Social Responsibility (CSR) initiatives.
Here, Super Rod managing director Malcolm Duncan talks about the power of CSR and connecting to customers on a whole new level.
It was December 2017 when I first met Louise Taggart. I was at an event in Scotland and Louise was delivering a presentation about Michael's Story. Michael Adamson was her brother; tragically, he died aged 26 after coming into contact with mains voltage power, following major health and safety failings on the site where he was working, including the failure to ensure safe isolation.
Until that day, the state of the industry's isolation practices had never kept me awake at night – but Louise's telling of her brother's story moved me so profoundly that I decided to use my influence as a manufacturer in the electrical industry to champion the cause and help Louise in her unyielding campaign to ensure there would not be another Michael.
In 2018, Super Rod worked with Louise on a PR campaign around Michael's Story to start a conversation with installers about safe isolation and to encourage them to work safer. We ran a survey with the Electrician's Community UK group on Facebook and used the shocking results about their working practices as the springboard for news stories, full-length feature articles and an eye-catching infographic, all supported by the poignant retelling of Michael's Story – a stark reminder of the consequences of unsafe working environments.
For us, the Michael's Story campaign was not about making money – after all, we don't sell lock out kits! We felt an unspoken duty of care to promote safe working practices and to expand our 'work smarter' mantra to include 'work safer'. Ultimately though, it was an opportunity to give something back to the industry that supports us.
Following the successful launch of the campaign in September 2018, we approached CEF about whether they would be interested in working with us on a nationwide follow-up. They were keen to engage their network in the safe isolation cause, which would not only help them make a deeper connection with their customer base, but it would also help them to increase sales of their isolation, tester and insulated tool products by giving their branch staff a platform to talk safety.
So together with our industry partners we invested in almost 2,000 heavily discounted, multi branded safety kits (including Megger voltage tester, Klein VDE snips and MCG lock out kit) which were distributed to all 400 CEF branches in August 2019.
In November, a further 40 tool bundles were donated free of charge to apprentices at Edinburgh College, where Michael had trained; 40 kits to mark what would have been the year of his 40th birthday. It was hoped that by giving these young people the right tools and getting them into good habits early, they would practice safe working throughout their career.
The very definition of CSR is the idea that a commercial company is interested in and willing to help society as well as being concerned about the products and profits it makes. With Michael's Story, we did just that. We led on an industry-recognised campaign which got people talking, and safe isolation has now moved up the national agenda – in part – because of what we achieved.
Of course, Super Rod has benefitted from our association with the campaign in terms of raising our brand awareness, positioning ourselves as an industry champion and in the inclusion of our Klein Tools' insulated snips in the bundles. But that was never the end game.
For electrical wholesalers, CSR campaigns such as Michael's Story demonstrate how powerful showing your altruistic side can be. Choose your cause carefully and it will allow you to start a conversation with your customers that sits above a commercial transaction. It's the opportunity for a connection on an emotional level, where customers might just make a purchase based on the fact that you really care about them/their industry rather than because it's on offer or it's the brand they like.
They say money makes the world go round, but I daresay that making it a better place for us all has to be a close second.