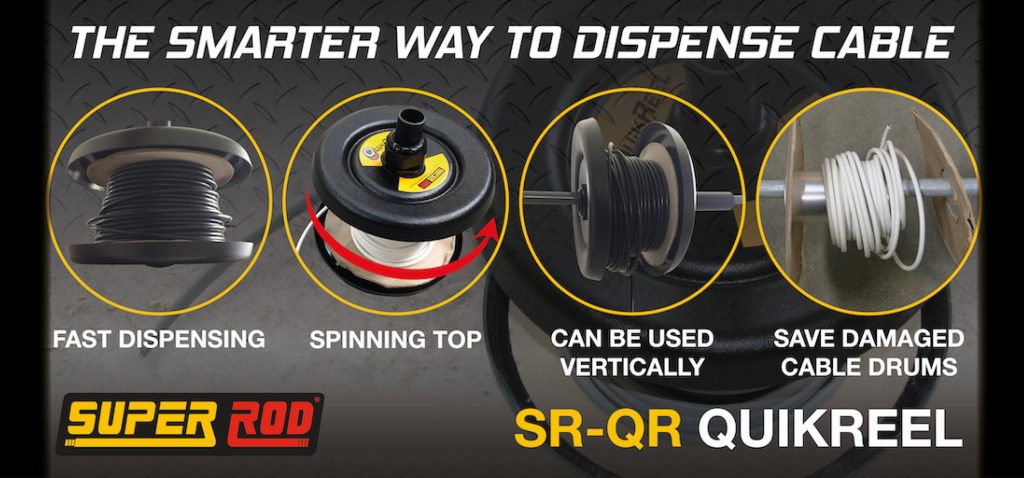 Introducing QuikReel – A revolution in cable dispensing
Super Rod has launched QuikReel, an innovative new cable dispensing tool for individual reels, which makes pulling cable so quick and easy that installers will wonder how they ever managed without one.
The QuikReel was designed by electrician Padraic Lenaghan from Dundalk, County Louth. Padraic has been a qualified spark for 25 years and runs his own business, specialising in wiring for domestic, agricultural and commercial buildings. He was increasingly frustrated by the cable drums he was using getting snagged and damaged on toolboxes, corners and other obstructions while he was trying to draw off the cable and was sure there must be a better way to do it.
His inspiration for the QuikReel came after the chance discovery of an old blue and white enamel dish in the loft space of a farmhouse Padraic was rewiring. The bottom of the dish was curved so when placed on the floor, it spun easily on itself like a spinning top. As the dish was roughly the same size as the reel of cable Padraic was using, he placed it on the dish and to his amazement the dish simply spun around in the same place while he walked away, with the cable coming off straight and smooth.
The QuikReel replicates the dish's spinning top action, allowing users to simply place their cable drum in the cleverly-designed dispenser and draw cable off the reel as it spins on its axis. Designed to fit most popular reel sizes, the drum is loaded into the compact dispenser using a twist nut, so no special tools are required, and it can be done quickly, without hassle.
The sturdy QuikReel has the added benefit of protecting the cable drum from getting wet or damaged, which can eventually lead to the cable spiralling off the reel and causing kinks and curls which make it difficult to install. And if you have got a damaged cable drum already, rather than waste or replace it, installers can simply place the broken cable reel in the Quikreel and use it to dispense the cable.
Inventor Padraic Lenaghan said: "The QuikReel is a solution to a common problem that many electricians face every day. I too used to get frustrated with pulling cable and it getting caught up on walls, toolboxes and ladders while I moved around a building, not to mention the hassle of having to stop and backtrack to untangle it all the time. I've also wasted my fair share of cable drums after they'd got damaged and the cable spiralled off! My invention is so simple but it works and it makes drawing off cable so much easier. You really will wonder how you worked without it!"
Super Rod Managing Director Malcolm Duncan said: "When Padraic showed us his prototype for the QuikReel, we knew it was definitely a product we wanted to add to our portfolio. Super Rod is an innovative company that thrives on bringing new products to market that installers will want in their tool bags and the QuikReel is just that. It's a really simple, low tech solution to a problem that many of our customers can identify with and we are sure that having a QuikReel to hand while they work will help installers to work smarter and more efficiently."
If like Padraic you have a reel-y good idea for a new tool for the electrical industry, email Super Rod on developmentideas@super-rod.co.uk.