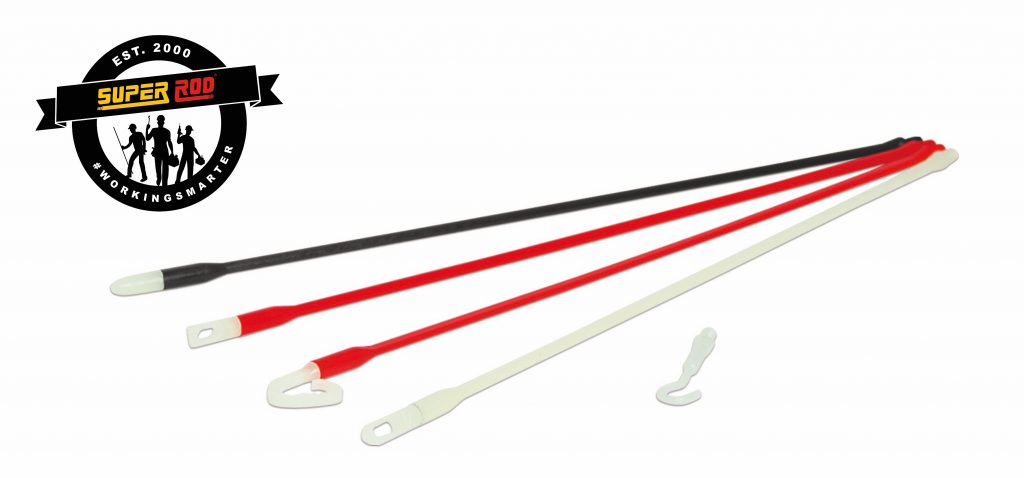 ROD SETS TO GET YOU OUT OF A TIGHT SPOT
Installers could save themselves hours spent on fiddly routing jobs with cable rods designed specifically for working in tight spaces, says Super Rod, one of the UK's leading manufacturers of cable management tools.
While most installers think of cable rods as a tool for long runs, like house rewires or running cables under floors or over ceilings, they are equally as effective for shorter, more complex runs – for example in server rooms, data cabinets and for cable trunking installations. They can also be a great solution for wall mounted TV installs.
To meet the needs of electrical professionals working on these kinds of jobs, Super Rod offers a complete Polymer Rod range. The shorter rods come in three different flexibilities to suit a variety of applications and are non-conductive, therefore ideal for working around electrically sensitive materials and components.
There are three standard Polymer Rod sets from Super Rod, varying in length from 4ft (1.32m) to 12ft (3.96m). Each set comes with five 'Glo in the Dark' attachments to provide extra visibility in dimly lit areas, including the domed bullet, a mini eye, a glow claw, a domed eye and a mini hook.
The attachments and 330mm long rods come in a durable packaging tube which can be used to keep the Polymer Rod set items together, and because of its compact size, the tube fits easily into most tool bags or boxes.
Malcolm Duncan, managing director for Super Rod said: "When you think of cable routing rods, you automatically think of the longer rods we make and big rewiring or cable routing jobs. But cable routing in small spaces can be equally as time consuming and fiddly without the right tools to hand. That's why we designed the Polymer Rod sets, especially for the needs of installers working in tight spaces, to help them spend less time on threading cables and more time on the stuff that matters, like getting done on time and onto the next job or home."Super Rod's polymer rods are also compatible with its standard rod sets, to give even more flexibility and options to Super Rod customers.