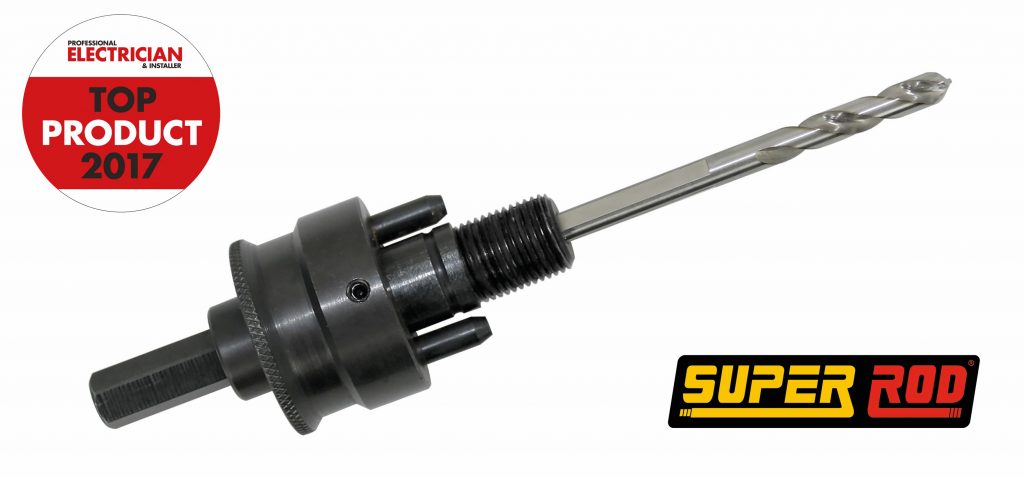 DUOXIM ARBOR NAMED TOP PRODUCT FOR 2017
The Duoxim Arbor from Super Rod has been crowned a 'Top Product' award winner in Professional Electrician & Installer Magazine's 2017 reader poll.
The awards, selected on the level of interest and enquiries generated by PE's 70,000+ readership, are recognition for those manufacturers and suppliers that have made a real difference to the electrical contractor's ability to get the job done efficiently, safely and professionally, whether this is in the form of innovative products, tools or time-saving solutions.
Super Rod's Duoxim Arbor is a unique innovation in drilling, allowing installers to make existing holes bigger with ease (such as when replacing old downlights with new or fire rated ones) and giving a uniform and tidy finish. The Duoxim Arbor is easy to use and requires no attachments or assembly. Simply insert the larger hole saw onto the arbor followed by the original hole saw, which just clicks into place to act as a guide
The idea for the product came from St Alban's contractor Kyle Gamble, who thought of the concept when faced with a project to replace 200 downlights without damaging a new lave and plaster ceiling.
Professional Electrician & Installer Magazine Editor, Richard Bowler said: "Our annual awards are a great way to reward those companies that have come up with excellent ideas to help electrical installers and businesses overcome common problems in their everyday work or open up new profit streams. The Duoxim Arbor from Super Rod is therefore a very worth winner of one of our 2017 Top Product awards."Malcolm Duncan, Managing Director for Super Rod said: "We are delighted that the Duoxim Arbor has been named one of Professional Electrician readers' top products of the year. At Super Rod, we work closely with installers and contractors to bring the tools to market that professionals want in their toolbox. It's clear to see by the popularity of the Duoxim Arbor since its launch at the Elex shows earlier this year, that this is a formula for success – give the people what they want!"