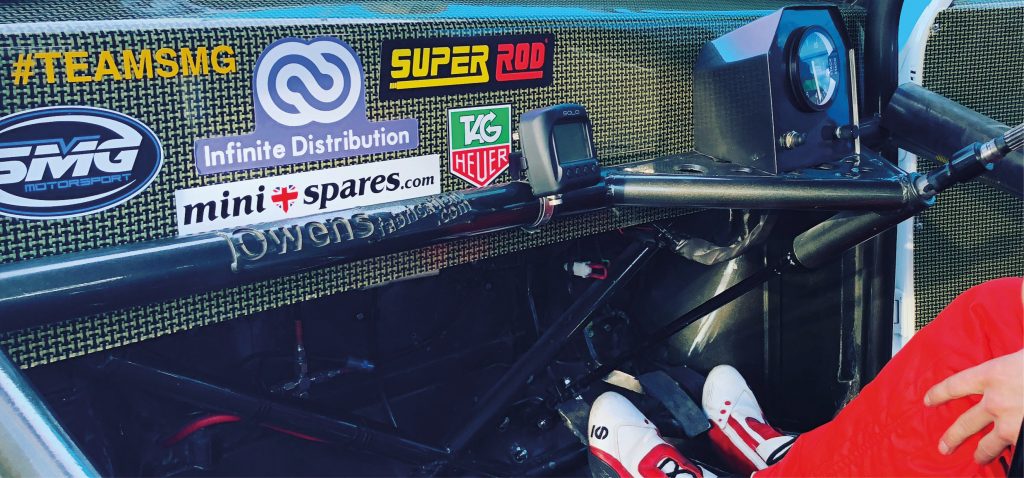 SUPER ROD SPONSORS MINI RACING TEAM FOR SECOND YEAR
Super Rod is sponsoring local Mini SE7EN racing team SMG for the second year in succession, to help the Abergavenny-based constructors and driver Leon Window build on their Winter Cup win last season.
SMG driver Leon won the Winter Cup at Brands Hatch in November, in the Mini sponsored by Super Rod. The team also finished inside the top 10 in the overall Championship. With the backing of Super Rod, Leon and the SMG team are hoping to make a real challenge for the top spot in the forthcoming racing season which starts in April at Pembrey.
As well as being a racing driver in his spare time, Leon Window is an installer by trade. He is the owner of Select Security, which started out in 2010 to deliver security systems to rural and agricultural clients. The company has since branched out to provide high-tech systems for industrial, public sector and commercial clients, as well as high-end bespoke systems for residential customers.
Leon said: "We are extremely pleased to have Super Rod's support again this year. We are long standing Super Rod clients and have been using their products since they first came out, so it is great to have their support in return. This season is set to be a big one for us and we are glad Super Rod is along for the ride and hopefully we'll be sharing some wonderful moments together this season."
Malcolm Duncan, Managing Director at Super Rod said: "Leon came to us last season as both an installer who uses our products and a racing driver in need of our support to help him beat the competition. We were more than happy to lend him our support and were delighted to have been a part of the team's success last season. We look forward to seeing what Leon and SMG achieve this year."The first Formula Mini Se7en race was held at Brands Hatch in 1966. Fifty years later, mini racing is still popular with racers and spectators alike, making it the longest running single-make race in the world. The series offers an affordable entry-level formula, which combines a high-level of on-track competition with a friendly, club atmosphere.