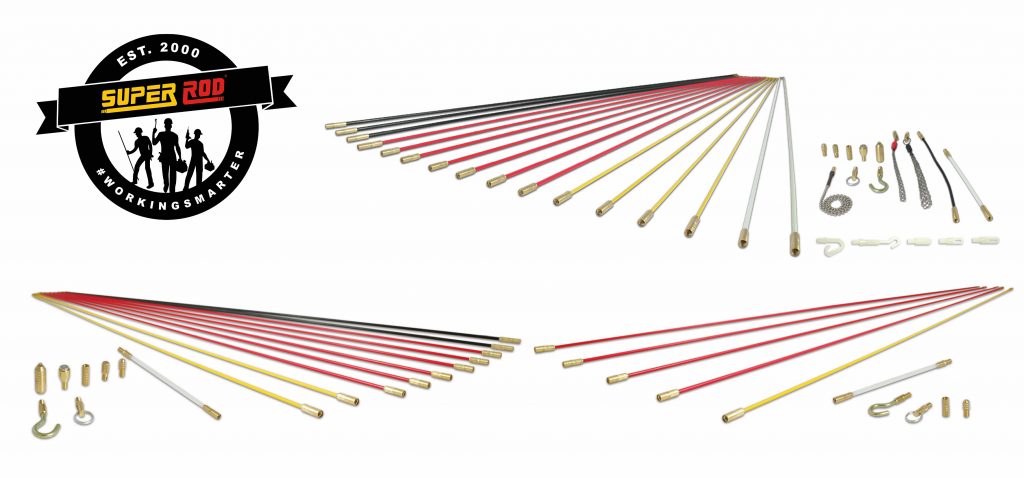 ALL SET FOR A COMPLETE CABLE ROUTING SOLUTION
Super Rod has created a range of different sets for its trademark cable routing products, to cater to the needs and budget of every electrical installer.
Its standard set (CRSS) is the ideal starter kit for those who haven't used cable routing tools before, or for those just starting out in the industry who are building up their professional tool collection. The standard set has 5m of length and three different rod flexibility choices. It also has five essential attachments to get you started including the Domed Bullet, the Tuff Hook and the Mini Eye & Ring.
For installers looking for a premium rod set which offers lots of functionality, Super Rod offers the Deluxe Set (CRSD). It has 10m of length and four different rod flexibilities plus eight attachments. These include all the attachments that come with the standard set plus a Flat Bullet, a Super Magnet and a Super Beam for more options when overcoming cable routing problems.
And finally, there's the best-selling Mega Set (CRMX). This is the most comprehensive cable routing kit on the market and has up to 16m of rod length, five flexibilities and a whopping 15 different attachments. These include everything that comes in a standard or deluxe set as well as a Chain, Super Grips, Shape It Flexi Leads and a selection of glow-in-the-dark attachments, which are a must have for anyone working with wire and cable.
All three sets feature cable routing rods made from Adoxim 5, an exclusive material to Super Rod which reduces splintering and increases flexibility. All fittings are mechanically crimped so they are durable and able to carry a load of 250kg. Each set also comes in a tough tube to keep the rods and attachments together.
Eric Parr from Super Rod said: "Our cable routing sets can save electrical installers up to three hours a week by helping them to work smarter. To ensure more people have access to the innovations that will make their lives easier, we have created a number of different sets which are designed to appeal to customers whether they are on a budget or want to dip their toe in the water, or are happy to go all in and get the works. It's about being inclusive and ensuring there's a Super Rod set for everyone."