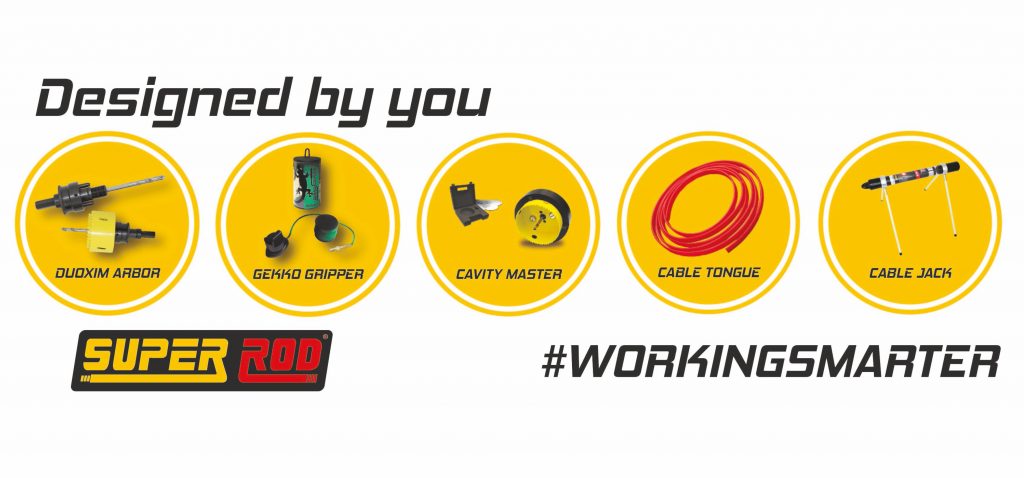 SUPER ROD APPEAL FOR BRIGHT SPARKS!
If you fancy yourself as a bit of an inventor and have a great idea for a product, or you have a problem that you need a solution to, Super Rod wants to hear from you.
The innovative company prides itself on listening to customers and developing products that really help electrical installers to work smarter and safer, or provide a simple solution to a common problem.
This year, Super Rod has been showcasing the new Duoxim Arbour at the ELEX shows up and down the country. The unique drilling product, which makes existing holes bigger, is ideal for widening a hole to fit a new fire rated or LED downlight. The Duoxim Arbour is actually the creation of Super Rod customer Kyle Gamble, who came up with his invention after he needed to replace 200 downlights without damaging a new lave and plaster ceiling.
Super Rod's Cable Jack and Cavity Master products are also inventions and ideas which came from installers.
Gina Dunn at Super Rod said: "The Duoxim Arbour is a great example of how we are bringing innovative tools to market that installers want and need to help them work smarter. Super Rod is a company that thrives on innovation, and we love working with installers on the designs for the products they want to see in their tool bag. So, if you have a bright idea, get in touch – as well as seeing your concept become a reality, it could also make you some extra money."
If you have an idea for a new product, get in touch with Super Rod on developmentideas@super-rod.co.uk