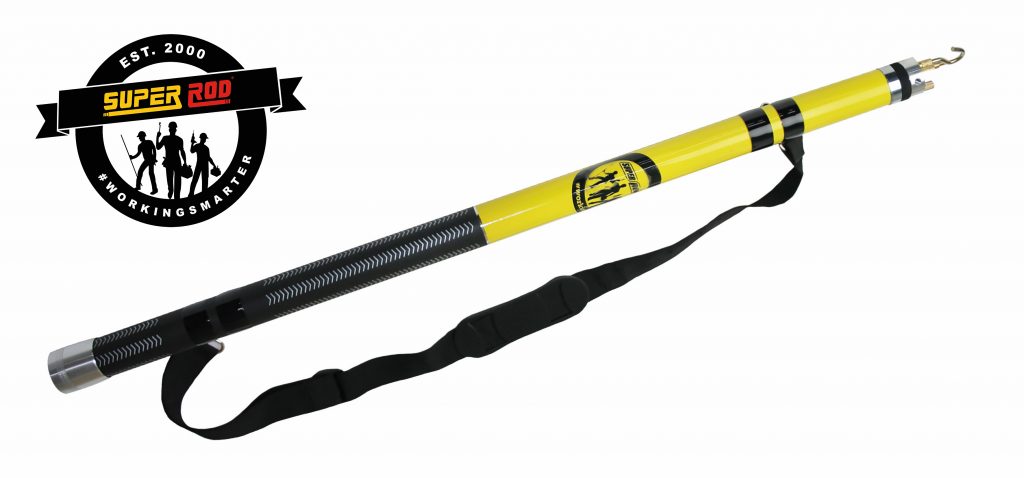 A CLEVER IDEA FOR HEIGHTS
Greater accuracy and more control when working at heights is now guaranteed with the introduction of the Telescopic Pole from Super Rod.
Designed to provide another way to route cable, the Pole is constructed from tapered GRP tube which makes it lightweight, fully electrically insulated and considerably more rigid than rod or coil based products.
The Pole will quickly and easily reach over a 6 metre ceiling expanse without having to slide a rod train in place. This makes it invaluable when working at heights as it not only increases safety but also eliminates the need for ladders, thus saving time and labour on every project.
Managing Director, Malcolm Duncan says: "Although we do have a full range of Cable Rod and coil based products, some installations call for a more rigid answer which is why we have introduced the Telescopic Pole. Its lightweight design means that it is easy to transport, will save a great deal of time in setting up and removing ladders and it will be extremely helpful to installers who are working on larger projects.
"With the addition of the Telescopic Pole we now have a complete set of cable routing products which are suitable for every installation, from working at heights to working in confined spaces. The installer no longer needs to worry about the quality of his tools – he just needs to ensure that he has the right tool for the job."