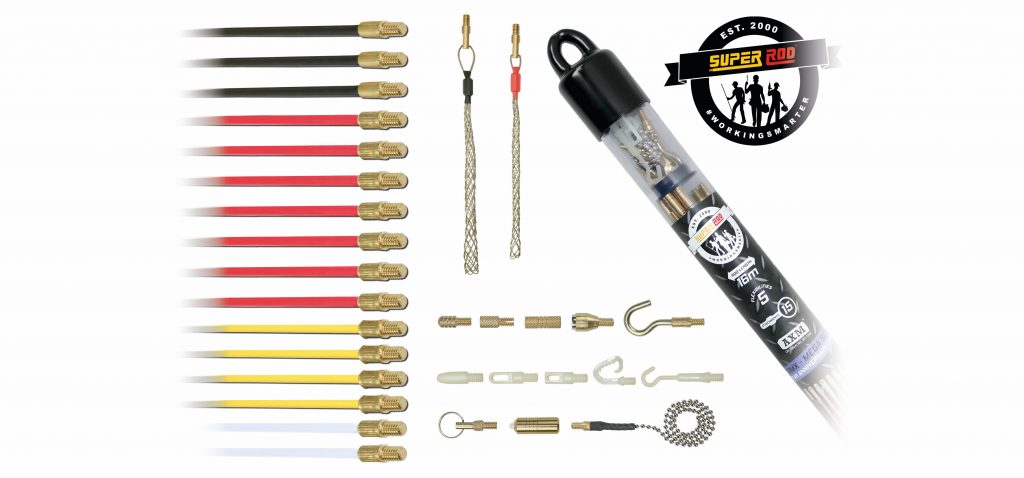 THE CLOCKS CAN GO BACK 30 MINUTES EVERY DAY WITH SUPER ROD'S MEGA SET
As the nights start getting longer and colder, Super Rod is encouraging installers to knock off 30 minutes early every day (guilt-free) by using its best-selling, time-saving Mega Set – the industry's original and most comprehensive cable routing kit.
The Mega Set features 16 rods in four different strengths and 15 attachments, including five free glow accessories which were added to the Mega Set in 2016 to mark the kit's 10th anniversary. Research shows that using the Mega Set cable routing tools can save installers 3 hours a week, allowing them to finish half an hour early a day without being any less productive.
Designed and manufactured at Super Rod's production facility in South Wales, the Mega Set's cable rods are made from Adoxim 5®, a super strong material designed to increase flexibility and reduce splintering. This means that the Mega Set is built to last, and installers can forget about unscheduled downtime caused by fibreglass splinters and broken rods. The cable rods are mechanically crimped so they are built to withstand rigorous daily use, and can carry loads of up to 250kg.
Gina Dunn from Super Rod said: "When we launched the Mega Set more than 10 years ago, it was the most comprehensive cable routing set available on the market. Since then, plenty more 'me too' sets have come along but none have the same quality, longevity and functionality of our cable routing sets, which have been awarded two Queen's Awards for innovation.
"But what really matters to us is whether they do the job we have designed them for and we know that our Mega Set gives installers the tools to route cables with ease, saving them 3 hours a week on average. So while the days are getting shorter and the nights are getting colder, Mega Set is an installers' ticket to get home 30 minutes earlier every day – and that's pretty Mega in our books!"
Super Rod customers agree that the Mega Set is the best rodding set yet;
"I used the Mega Set for first time the other week on a part rewire of an older house. It just saved so much time and effort in pulling new cables into place. In a few areas, it saved having to damage ceilings too." GW
"This is an amazing set and it will save you loads of time with difficult cable installs. Overall it's a brilliant product." TP