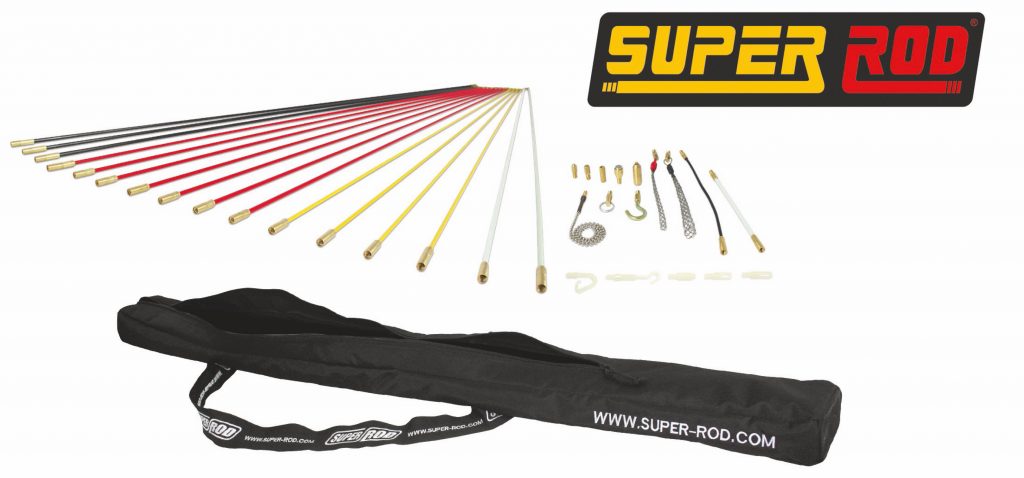 Free bag with every Mega Set sold
Electricians and installers can bag a great deal this April, when they pick up a Super Rod Mega Set from any participating wholesaler, and get an SR-BAG worth over £25 to store it in, absolutely free!
The SR-BAG has been custom designed for Super Rod and is ideal for storing and transporting Super Rod products like the Mega Set. It features secure three external pockets for the bits tube, 270mm and 410mm length packaging tubes, an internal protective pocket with draw string and detachable clip and even a handy pocket for business cards. Once everything is in, the SR-BAG has a single adjustable strap so it can be comfortably carried it on the shoulder.
Super Rod's Mega Set is one of its best sellers, and one of the most comprehensive routing kits on the market. Designed and manufactured in the UK, the Mega Set has over 16m (52ft) of length and five different rod flexibility choices coupled with an extensive range of attachments, including five glow accessories.
Craig Evans, Design and Development Manager for Super Rod said: "There's nothing worse than turning up to a job and realising you haven't got everything you need with you to complete the work. Our handy SR-BAG is a simple way of keeping all your routing kit safe and together in one place so you'll never be caught out on site again, and for a limited time it's absolutely free."