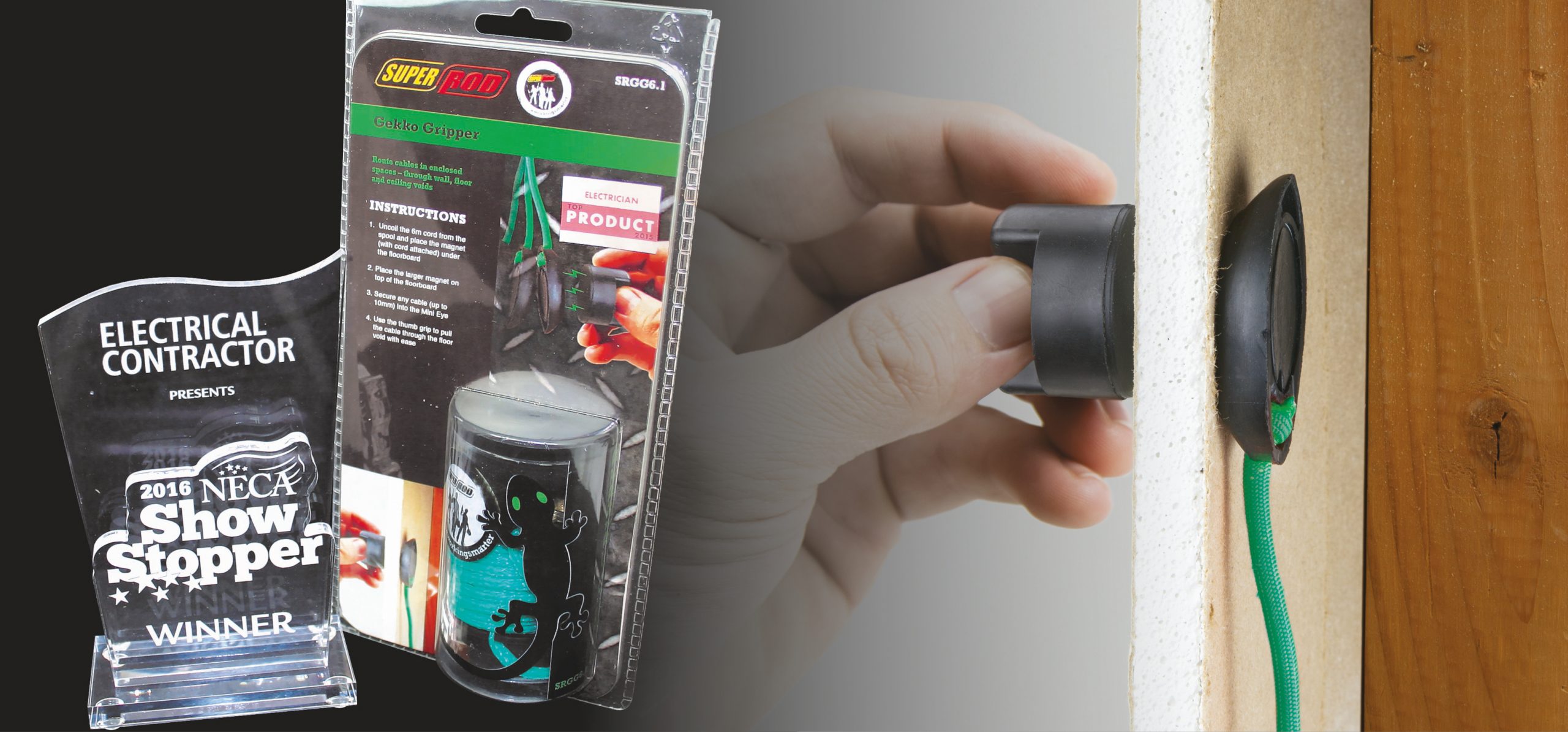 UK Invention Takes the US by Storm
The Gekko Gripper the 'must have' addition to any installer's toolbox, has won a prestigious Show Stopper Award at The NECA exhibition in Boston.
The innovative product, distributed by Super Rod in the UK and Klein Tools in the US, features unique magnetic routing which allows installers to route cable easily with its 6m long re-enforced Nylon Cord, Magnet, Mini Eye & Ring and a Thumb Grip. The simple but effective Gekko Gripper is the perfect solution for routing cables between plasterboard wall insulation.
The Gekko Gripper was designed by Manchester joiner Dave Reddy. Dave commented on how the product works, "I designed this product to make electricians' lives easier when installing cables through floor voids because this can be a problematic task at the best of times. The Gekko Gripper even allows you to route through false walls filled with insulation."
"When the Gekko Gripper was launched in the UK, I was absolutely ecstatic, but to know that not only has the product been successfully launched in the US, but was voted to win one of the NECA Show Stopper Awards, has literally blown me away!!"
NECA is the voice of the electrical construction industry. NECA has provided over a century of service to the $130 billion electrical construction industry that brings power, light, and communication technology to buildings and communities across the United States. NECA's national and 119 local chapters advance the industry through advocacy, education, research, and standards development.
Today, NECA continues to build on a legacy of protecting the public and making innovation possible. NECA contractors strive to be solution-providers for their customers, and their industry expertise benefits everyone working on an electrical construction project.
Malcolm Duncan of Super Rod and Klein Tools commented on the achievement: "The Gekko Gripper was designed to make every electricians job easier and less time consuming when it comes to routing cables. It' simple, but effective and that's why it is a tool that you cannot afford to be without. We are all absolutely delighted to have won this award".
The Gekko Gripper is available at all good local stockists in the UK (and also now in America!)