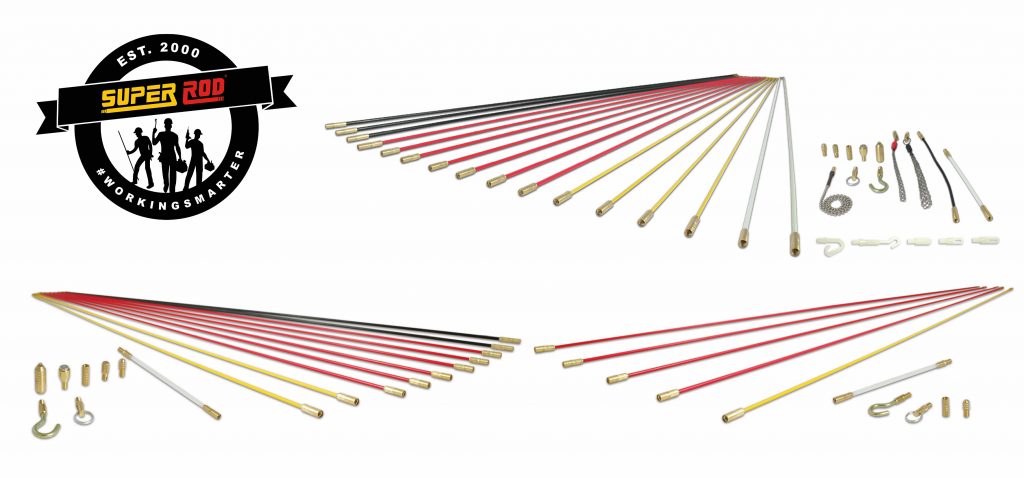 Get kitted out
It's no secret that Super Rod's cable routing products are the most comprehensive on the market. The question is, have you kitted yourself out yet?
Over 11 million of the 'must have' rods have been manufactured in the UK with firm favourites such as the Standard, Deluxe and Mega Sets accounting for the majority of orders.
Here's the real clincher – in a single year the products have saved over 9 million hours which equates to a saving of £270 million for the industry. If that's not enough of an incentive, contractors who purchase the kits can expect payback in just 2-3 weeks as a result of the time saved.
The Standard, Deluxe and Mega Sets offer choices for everyone. Each kit is designed for strength with specially developed AXM fittings to carry loads of up to 200kg – nearly double the strength of any other product on the market. All of the models also use the specialist rod formula Adoxim 5 to reduce splintering and increase flexibility.
Managing Director, Malcolm Duncan says: "After nearly 15 years of designing and manufacturing the Super Rod system it's fantastic to see what a difference the kits make to the industry. "Installers are required to carry out ever more complex installations; pulling more and more cables, through challenging terrains. We have therefore focussed our efforts on the design and as a result raised the bar for cable routing."